Sika Sikaflex-295 UV Marine UV Resistant Adhesive and Sealant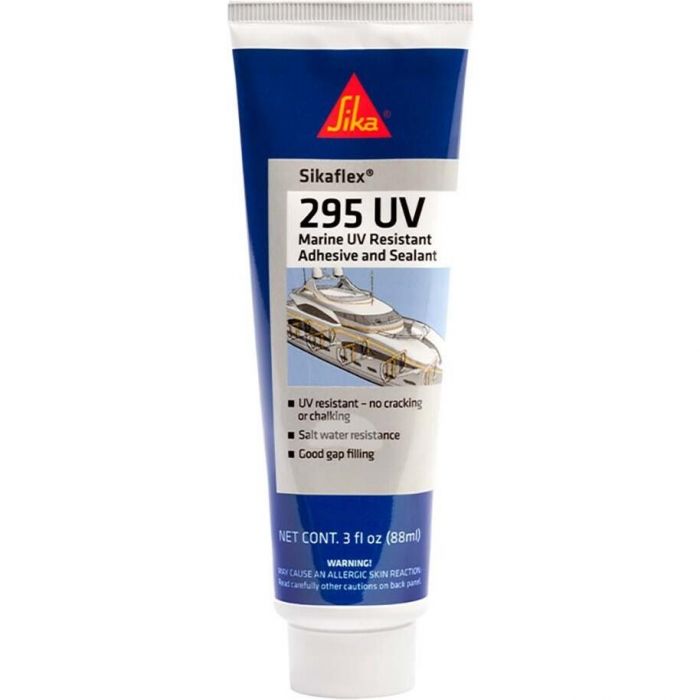 Sika Sikaflex-295 UV Marine UV Resistant Adhesive and Sealant
Item # 960025
Description
Sikaflex®-295 UV is a 1-component polyurethane adhesive of paste-like consistency that cures on exposure to atmospheric moisture. It is suitable for interior and exterior sealing applications and to bond organic glass in the Marine industry. Sikaflex®-295 UV meets the requirements set out by the International Maritime Organization (IMO).
Features:
Excellent application properties
Resistant to aging and weathering
Suitable for organic glasses
Approved for the OEM market
Wheelmark approved
Specifications:
Chemical Base: 1-component polyurethane
Cure Mechanism: Moisture-curing
Density (uncured): 1.3 kg/L (10.8 lbs/gal)
Non-sag Properties: Good
Application Temperature: 10 - 35°C (50 - 95°F)
Skin Time: 60 minutes (23°C (73°F)/50% r.h.)
Open Time: 45 minutes (23°C (73°F)/50% r.h.)
Shrinkage: 1%
Shore A Hardness: 35
Tensile Strength: 2 MPa (290 psi)
Elongation at Break: 500%
Service Temperature: -50 to 90°C (-58 to 194°F)
Shelf Life: 12 months (storage below 25°C (77°F))
Application
Sikaflex®-295 UV has been specially developed for the marine industry, where it is used to bond and seal plastic glazing materials in boats and ships
Because of its excellent weatherability this product can also be used to seal joints in exposed areas
Suitable substrates are:

Aluminum (bright or anodized)
GRP (polyester resin)
Stainless steel
Timber
2-component coatings
Plastic glazing materials (PC, PMMA)

Seek manufacturer's advice and perform tests on original substrates before using Sikaflex®-295 UV on materials prone to stress cracking
This product is suitable for experienced professional users only
Tests with actual substrates and conditions have to be performed to ensure adhesion and material compatibility
WARNING
---
This product can expose you to chemicals which are known to the State of California to cause cancer, birth defects or other reproductive harm.
For more information go to www.p65warnings.ca.gov.
Part Numbers for Sika Sikaflex-295 UV Marine UV Resistant Adhesive and Sealant