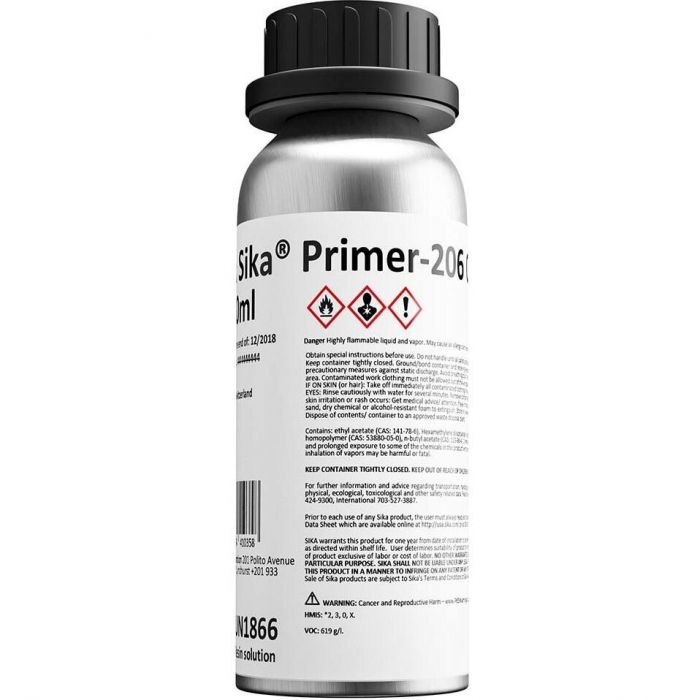 Sika Primer-206 G+P
Item # 960043
Description
Sika® Primer-206 G+P is a solvent-based black primer, which reacts with moisture and forms a thin layer. This layer acts as a link between substrates and adhesives. Sika® Primer-206 G+P is specifically formulated for the treatment of bond faces prior to the application of Sika's 1-component Polyurethanes.
Features:
Enhanced adhesion on a wide variety of substrates
Easy to apply
Specifications:
Chemical Base: Solvent-based polyurethane solution
Solid Content: 36%
Application Temperature: 5 - 40°C (41 - 104°F)
Application Method: Brush, felt or foam applicator
Consumption: 50 mL/m2 (depending on substrate porosity)
Flash-off Time

≥ 15°C: 10 minutes
< 15°C: 30 minutes
Maximum: 24 hours
For specific application, temperature and flash-off time may be different/li>

Shelf Life: 9 months (stored in sealed container in upright position in a dry place at ≥ 25°C (77°F))
Application:
Sika® Primer-206 G+P is used to improve adhesion on substrates such as:

Float glass
Ceramic-coated glass
Pre-coatings
Painted surfaces
Some plastics and metals

Seek manufacturer's advice and perform tests on original substrates before using Sika® Primer-206 G+P on materials prone to stress cracking
This product is suitable for experienced professional users only
Tests with actual substrates and conditions have to be performed to ensure adhesion and material compatibility
WARNING
---
This product can expose you to chemicals which are known to the State of California to cause cancer, birth defects or other reproductive harm.
For more information go to www.p65warnings.ca.gov.
Part Numbers for Sika Primer-206 G+P