SI-TEX Metadata Class B/SO AIS Transceiver with External GPS Antenna Package - MDA-5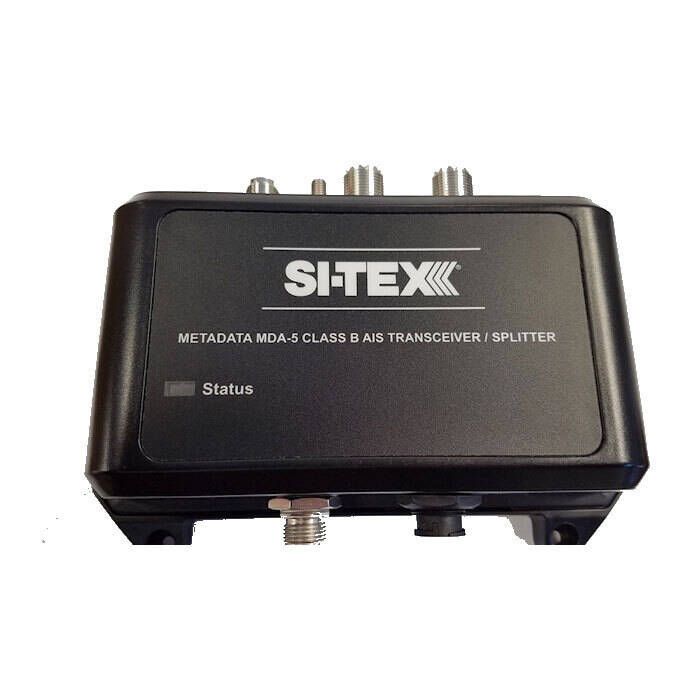 SI-TEX Metadata Class B/SO AIS Transceiver with External GPS Antenna Package - MDA-5
Item # 883292
Description
This powerful Class B/SO AIS transceiver will make your boat "visible" to other vessels with AIS over long distances and in challenging conditions with its 5-watt transmission power. The SI-TEX Metadata MDA-5 module transmits at more than twice the power of traditional Class B AIS transceivers to put you on more screens for increased safety.
Features:
World's most sophisticated, fully certified 5-Watt SOTDMA Class B AIS Module on the market
Transmits position and other dynamic data such as Speed Over Ground, Course Over Ground and Heading on a more frequent, "Class A-Type" priority basis

Provides surrounding vessels with more accurate position information
Especially important for boats traveling at high speeds and/or in congested areas

Higher output power means your vessel will be seen at longer ranges by other vessels and via AIS websites
SOTDMA Class A Priority means your vessel will always transmit and be seen in congested harbors where traditional Class B units don't have network priority
Transmitter can be silenced (see definition below)
Automatic VDR Function (Voyage Data Recorder)
Integrated zero loss VHF antenna splitter - no second antenna needed
Built-In 802.11 b/g/n Long Range WIFI allows unit to send AIS and Position data to any WIFI connected devices
NMEA-0183 data port, NMEA-2000 & USB intelligent connectivity to all bridge systems
Built-In GPS & GLONASS satellite navigation receiver
Waterproof certified to IPX7
Dual receivers decode all DSC & AIS messages, including MOB & SART
Ultra-power efficient
IEC-62287-2, FCC and USCG certified
2-Year warranty package
SOTDMA stands for Self-Organized Time-Division Multiple Access and means as AIS info comes into the receiver, it organizes the data into time slots that are time-shared with a TDMA receiver. It transmits at 5W at high power, twice the power of traditional Class B AIS Transceivers — so your boat can be "seen" over long distances and in the most challenging conditions.
Specifications:
Transmitter output power: 5W
VHF Antenna connector SO-239 UHF
GPS Antenna connector TNC
NMEA-2000 connector: Micro-C
Frequency range: 156.025 - 162.025 Mhz
Input voltage: 9.6 - 31.2V DC
Current draw: 220mA average power consumption
Operating temperature range: -25° C to +55° C
Ingress protection: IPx7
Dimensions (transceiver): 6.8" W x 5.0" H x 2.0" D
Weight 0.8 lbs
In the Box:
Class B/SO AIS Transceiver
Commercial grade external GPS antenna with coax cable
Power & data interface cable
VHF radio connection cable
Product information DVD, with ProAis2 software for programming & troubleshooting
User manual & quick start guide
Mounting hardware
Part Numbers for SI-TEX Metadata Class B/SO AIS Transceiver with External GPS Antenna Package - MDA-5