SI-TEX Color LCD Marine 18" Radar with Touch Screen - T-760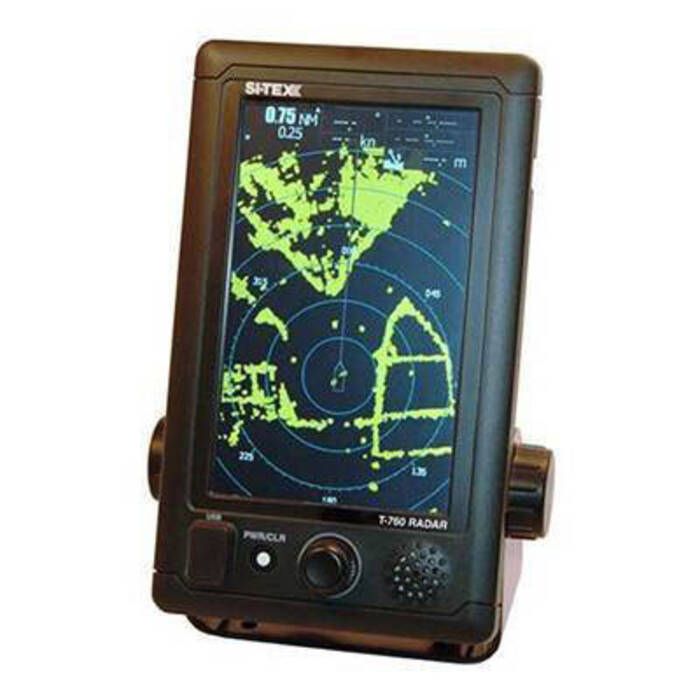 SI-TEX Color LCD Marine 18" Radar with Touch Screen - T-760
Item # 883284
Description
Si-Tex T-760 Series Radar includes advanced features like touch screen control, AIS target tracking and standard MARPA (Mini Automatic Radar Plotting Aid).
Features:
Compact, slim case and vertically oriented, 7-inch (800X480 pixel) touchscreen color LCD display
Allows for versatile mounting options, even on small and/or crowded consoles and helm stations
The T-760 Series case measures only 5.4" W X 8.9" H X 3.5" D.
Includes powerful 4kW output, up to 48nm range, multi-speed antenna rotation, standard 50-target AIS tracking capability and standard 10-target MARPA
Control of all these features is achieved via the T-760's touch screen LCD display and single rotary encoder dial, for simple, intuitive operation
T-760 is equipped with an 18-inch compact radome antenna for solid performance in a wide range of conditions and range scale choices from 1/8th nm to 24nm
T-760 has a powerful 4kW transmitter, ensuring accurate detection and presentation of targets large and small
Both models also offer multi-speed antenna rotation (16/27/36/48rpm) for optimum target detection and tracking over a range of boat speeds
Among many other notable standard features of the T-760 Series are Relative Motion, True Motion, North-Up, Head-Up and Course-Up presentation modes, Auto or Manual Sea/Rain Clutter modes, 11 Trail Indication settings (including Off and Continuous), and more
With input from a Si-Tex Metadata AIS module (or other AIS receiver), the T-760 Series can track up to 50 AIS targets simultaneously for enhanced navigational safety in crowded waterways
With input of bearing, ship's speed and lat/lon data, the T-760 Series empowers navigators with professional MARPA tracking of up to 10 targets at distances up to 20nm
In the Si-Tex tradition, the T-760 Series radar is ruggedly built to withstand harsh conditions at sea on commercial as well as recreational vessels
Si-Tex's two-year limited warranty
Specifications:
Antenna/Scanner 18" radome
Output Power (Peak) 4 kW
Basic Range 0.0625 - 24 NM
Beam Width H: 5.2 V: 25
Rotation Speeds 16-48 rpm
Display Size and Type 7" Color LCD
Effective Diameter 90 mm or more
Display Resolution 800 x 480 pixels
Off-Centering 2/3 radius of PPI
Presentation Modes Relative Motion, True Motion, Head-Up, Course-Up
Anti Sea/Rain Clutter Auto/Manual
Trail Indication Off, 15s, 30s, 1min, 2min, 6min, 10min, 15min, 30min, Cont.
NMEA Input / Output Optional Color RGB Video Output
AIS Target Capacity 50 targets
ATA Tracking Capacity/Range 10 targets/20NM
Target Data True Bearing, Range, True Course, True Speed, CPA, TCPA
Target Alarms CPA/TCPA, New Target, Lost Target, System
Power Supply DC 12/24V - 10/+30%
Power Consumption Approx. 50W
Requires AIS receiver input.
Requires bearing data, ship's speed data and latitude/ longitude data input
Part Numbers for SI-TEX Color LCD Marine 18" Radar with Touch Screen - T-760