Scandvik ABA 316 Hose Clamp Cruiser Pack - 31606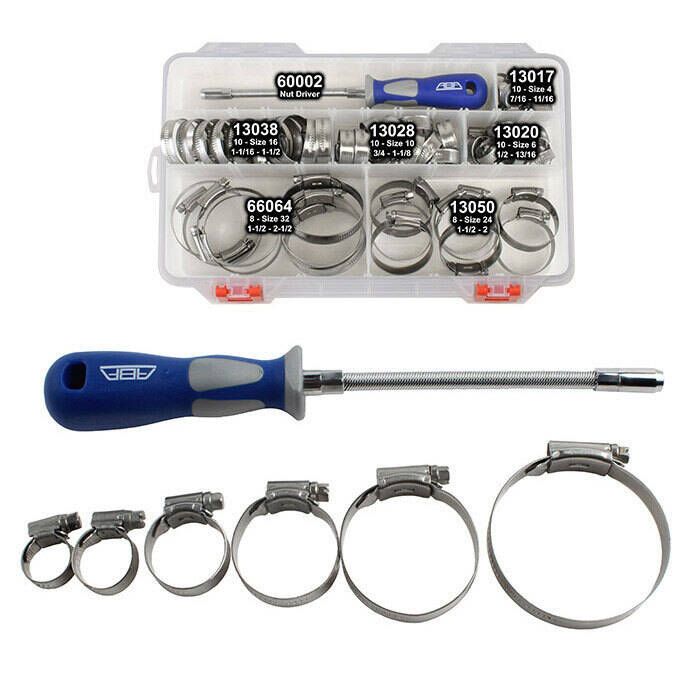 Scandvik ABA 316 Hose Clamp Cruiser Pack - 31606
Item # 880433
Description
The Scandvik ABA 316 Hose Clamp Cruiser Pack provides a convenient place to store and see your assortment of hose clamps. Composed of high-quality, 316 stainless steel for excellent corrosion resistance, these hose clamps provide superior clamping and sealing for continual use throughout the season.
Features:
High quality ABA hose clamps with 316 stainless steel bands, housings and screws
Contains 56 assorted ABA 316 stainless steel clamps and a 7mm (9/32") flexible nut driver
Clamp sizes range between 7/16" to 2-1/2"
Convenient see-thru storage case for simple viewing and storing
Six degree thread pitch provides greater gripping power with less tightening torque
Rolled up band edges designed to minimize hose wear
No band perforation, acid resistant and vibration proof
Note: ABYC standards require double clamping of fuel fills and exhaust hose. It is best practice to use double clamps on all below waterline connections.
Specifications:
Material: Stainless steel
Includes 56 assorted clamps and 1 flexible nut driver tool
Clamp band width: Size 4 and 6 are 3/8 in. wide; all others are 1/2 in. wide
In the Box:
(10) Size #4 Clamps (7/16" to 11/16")
(10) Size #6 Clamps (1/2" to 13/16")
(10) Size #10 Clamps (3/4" to 1-1/8")
(10) Size #16 Clamps (1-1/16" to 1-1/2")
(8) Size #24 Clamps (1-1/2" to 2")
(8) Size #32 Clamps (1-1/2" to 2-1/2")
(1) 7 mm (9/32") Flexible hex head nut driver tool
Part Numbers for Scandvik ABA 316 Hose Clamp Cruiser Pack - 31606