Rule Rule-Mate Automatic Bilge Pump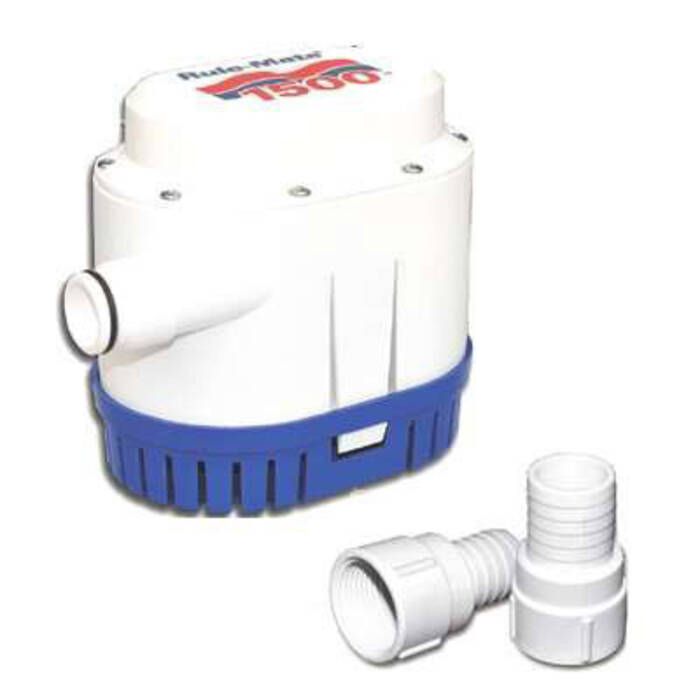 Rule Rule-Mate Automatic Bilge Pump
Item # 880198
Description
Rule-Mate's Automatic Bilge Pump is an all-in-one, eco-friendly pump and switch that features solid state water-sensing technology that eliminates the need for a separate float switch.
Features:
Powerful bilge pump and a new non-mercury float switch in a single housing
While fully automated, the pump will only turn on when the water level rises
There is no cycling and battery drain, the pump remains off until the internal float switch rises
The pump then stays on until the water is evacuated
Internal computer senses no load (water) against the impeller and then shuts off
Quick release inlet strainer allows rapid cleaning
A detachable strainer provides easy access to the impeller area for removal of debris
For medium sized yachts and motor cruisers
Improved switching with a protective mode
Upgraded on/off mechanism. The previous design activates the pump using a magnet in a float "cube" and a reed switch to sense the water around the pump
Water is sensed by an interruption in an electromagnetic field generated by the new circuit board
To turn the pump off, the circuit board senses the amount of work the motor is doing (viaA draw) and once the circuit board senses the motor is doing less work, the board turns off the pump
Circuit board includes a fail-safe feature which measures the amount of work the motor is performing and the length of time the motor is running
If debris, such as a wet paper towel, becomes lodged against the pump, it could "trick" the pump into thinking water remained in the bilge which could deplete the vessel's battery
When the circuit board senses the motor's running but not pumping water for longer than fifteen seconds, the pump will enter into a cycling mode in the same fashion as the computerized pumps
Pumps turn off and activate the motor every two and a half minutes and if it senses water, it will continue to run until the water has been removed from the bilge
After the debris is removed, the pump will automatically revert to the level sensing mode
Rule Pumps carry a 3 year warranty from the date of purchase
Specifications:
Body material: Plastic
Outlet port size: Threaded 1" NPSM with 1" and 1 1/8" straight hose barbs included
Optional 1" and 1 1/8", 90º elbows available (sold separately)
Dimensions: 6" H x 7 1/2" W
Fuse size: 9A
Output: Up to 95 liters/minute (21 gallons/minute)
Outlet: Threaded 1" NPSM port
Accepts the included 1" and 1 1/8" hose barb ports as well as the optional 1" and 1 1/8" 90º elbows (sold separately)
Max. recommended discharge head 2 meters
Replaces: Rule RM-1500
WARNING
---
This product can expose you to chemicals including Formaldehyde, which are known to the State of California to cause cancer, birth defects or other reproductive harm.
For more information go to www.p65warnings.ca.gov.
Part Numbers for Rule Rule-Mate Automatic Bilge Pump