Ronstan 60 mm Series 60 Core Stand-Up Block - RF64140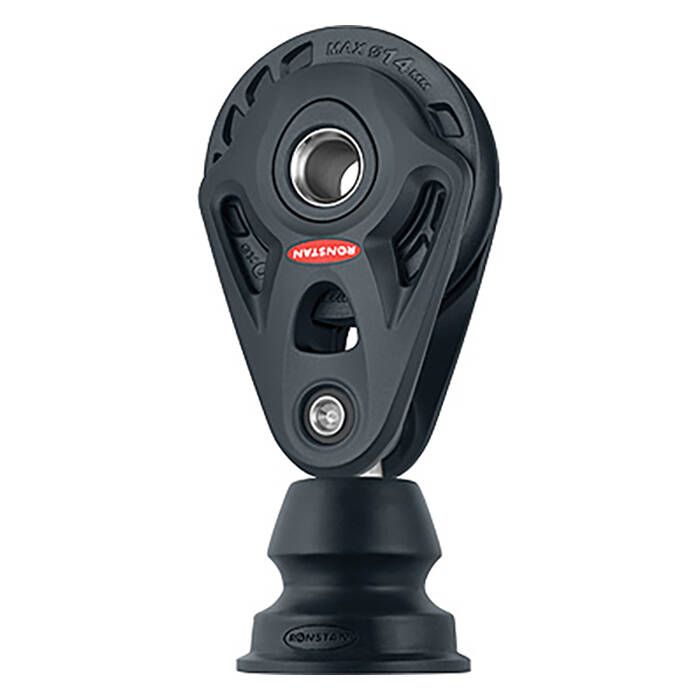 Ronstan 60 mm Series 60 Core Stand-Up Block - RF64140
Item # 879872
Description
The Ronstan Series 60 Core Stand-Up Block (RF64140) is a true all around solution. A tuned 2-stage bearing system provides excellent performance across the full working load range with an integrated thrust bearing feature and the resilience to handle high dynamic or static loads. Acetal sheave, alloy cheeks and stainless fixings complete the durable package. For reliability and a long service life, these blocks are the right choice for sheets, halyards and control line applications for cruising and racing.
Features:
Class leading performance and sleek, contemporary styling
Excellent dynamic and high static load performance
Less than half the friction of the nearest competitor
Durable aluminum alloy cheek plates
Central hub hole can be used as a becket take-off or tie-up point
Swiveling head post for full 3-axis articulation
Strong precision cast padeye base
Resilient rubber stand-up boot prevents clatter & block falling down when not loaded
Applications:
Ideal for mainsheet, halyard and spinnaker sheet applications on boats to 12 m (40 ft)
Various control line applications on larger yachts
Alloy sheave models are available for use with wire
Specifications:
Safe working load: 2200 lb (1000 kg)
Breaking load: 4410 lb (2000 kg)
Weight: 13.2 oz (372 g)
Sheave diameter: 2-3/8" (60 mm)
Maximum line size: 1/2" (12 mm)
Materials:

Sheave: U.V. stabilized Acetal or anodized aluminum (AW models)
Cheek plates: Aluminium alloy
Ball Bearings: High compression strength carbon black Acetal
Universal Bearing
The Ronstan Universal Bearing incorporates proven 2-stage bearing system with proven dynamic and high static load performance.
Stage 1 - Under moderate loads, Acetal ball bearings ensure minimum friction.
Stage 2 - Under heavy loads, where deformation of ball bearings alone would result in increased friction, a sliding Acetal bearing on a polished stainless steel race takes over, maintaining low friction performance.
Additionally the ball bearings are configured to act as a thrust bearing between the sheave and cheeks, preventing the sheave from rubbing on the cheeks and causing friction when the line lead in and out of the block isn't perfect. Particularly important for cheek blocks.
Alloy cheek plates
Block cheeks are manufactured from the highest quality alloy for maximum strength. Material optimization and the cut-away design minimizes weight and allows easy fresh water rinsing of salt and debris from the bearings. Cheek design has been further styled with flaring at the block throat and reduced gap between the cheek and sheave, minimizing rope wear.
Fully articulated stand-up
Stand-up models have a low profile linkage that provides full rotation and articulation. A high strength precision cast padeye minimizes the footprint and a dedicated rubber boot ensures the block is held upright when not loaded.
Part Numbers for Ronstan 60 mm Series 60 Core Stand-Up Block - RF64140