Ronstan 55 mm Series 55 Orbit Cheek Block - RF56151A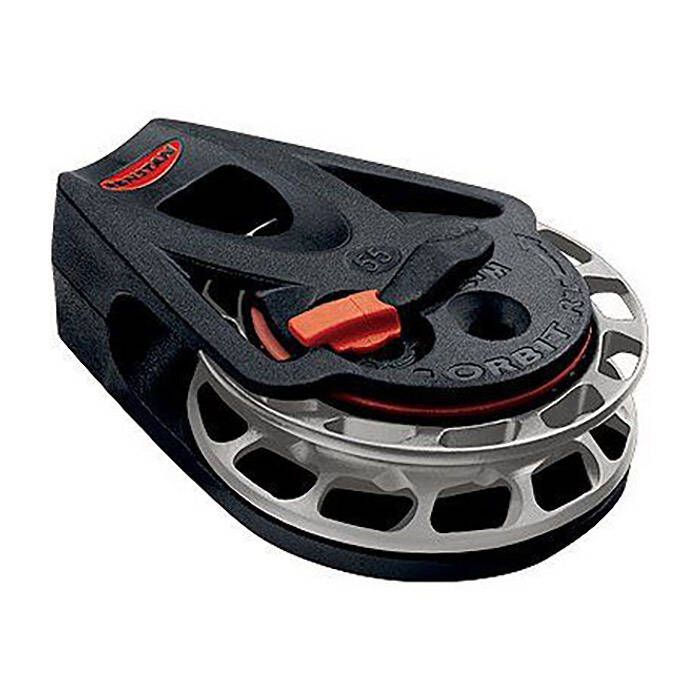 Ronstan 55 mm Series 55 Orbit Cheek Block - RF56151A
Item # 879859
Description
The Ronstan Series 55 Ratchet Orbit Block™ (RF56151) has the highest holding power available. The sophisticated NC-machined sheave features Generation 2 of our patented sheave cross-hole geometry. Its holding power is up to 20:1, double that of our nearest competitor. The unique sheave design has 12 gripping faces which directly resist loaded line movement.
Traditional designs have only 8 faces with an angled resistance to line movement. Our Generation 2 design has straight resistance faces which both distribute the load and minimize rope wear. These faces are offset from the radial line, to draw the rope down into the gripping area when under load.
Features:
Ultra Lightweight
Low friction 2-stage Orbital ball bearing system
Highest working load in its class
Easily fitted and securely retained Dyneema Link head
Low profile and compact
High performance cleating
Applications:
Mainsheet systems on dinghies, sport boats and small keelboats to 9 m (30 ft)
Spinnaker sheets on dinghies, sport boats and small keel boats to 9 m (30 ft)
Halyard, Vang and Backstay application on boast to 8m (26ft)
Control line applications on larger yachts
Specifications:
Safe working load: 550 lbs (250 kg)
Breaking load: 1540 lbs (700 kg)
Weight: 2.7 oz. (76 g)
Sheave diameter: 2-5/32" (55 mm)
Maximum line size: 3/8" (10 mm)
Materials:

Ball bearings - High compression strength carbon black Acetal
Stage 2 bearing - Carbon fiber reinforced, PTFE impregnated Nylon
Frame/Cheeks - Toughened, glass fiber reinforced Nylon
Rope Link: UV stabilized, multi-strand impregmented SK75 Dyneema®
Lightweight Kilogram for kilogram of working load, BB and RT Orbit Blocks™ are the world's lightest. To gain peak performance, we engineered out the heavy steel load straps, head post, shackle, full-length fasteners, and cleating accessories. Through extensive research and development, we replaced virtually all metal components with high-tech polymers and fiber equivalents.
The unique orbital design allows the bearing to only be in the active areas of the floating sheave. This minimizes the mass of the inactive return race and hub.
Weight and bulk are further reduced in the different block configurations. The ball bearing single and becket block has a through-sheave becket arrangement. The result? The lowest weight possible.
Multi-sheave blocks have only single intermediate cheeks and an ultra-light and efficient head arrangement. This gives a 30% weight saving advantage over the nearest competitor. Other brands just link together their single blocks. This results in unnecessary double cheeks between each sheave, held together by a heavy steel channel across the top of the block. Highest working load in its class The orbital ball-bearing arrangement gives the largest possible bearing race diameter. This maximizes load performance. The proven Ronstan 2-stage bearing system features high compression grade acetal ball bearings and a secondary full-contact bearing. This gives minimum friction across the full working load range.
The floating sheave and bearing system is supported by a fiber-reinforced load frame. The design was computer modeled to be stress optimized. The Dyneema® Link is produced from FSE Robline SK75 fiber, which is 10 times stronger and lighter than steel, and provides the final connection from the block to the load point. Simple and secure attachment The Dyneema® Link is easily fitted and is retained securely by a molded retainer clip. The flexible link can be left with one end attached to the block when fitting - no more lost shackle pins.
The system is compatible with Dyneema®/Spectra® strops, webbing and carbon connection points - much more so than steel loop tops or shackles. Low profile and compact The flexible Dyneema® Link provides controlled rotation and 0° or 90° orientation. It connects directly to the head of the block rather than to an intermediate head post. This reduces weight and gives the lowest possible profile while allowing full articulation. Beckets have been carefully designed to minimize height.
Part Numbers for Ronstan 55 mm Series 55 Orbit Cheek Block - RF56151A