Reverso GP-3025 Oil Change System with Gear Pump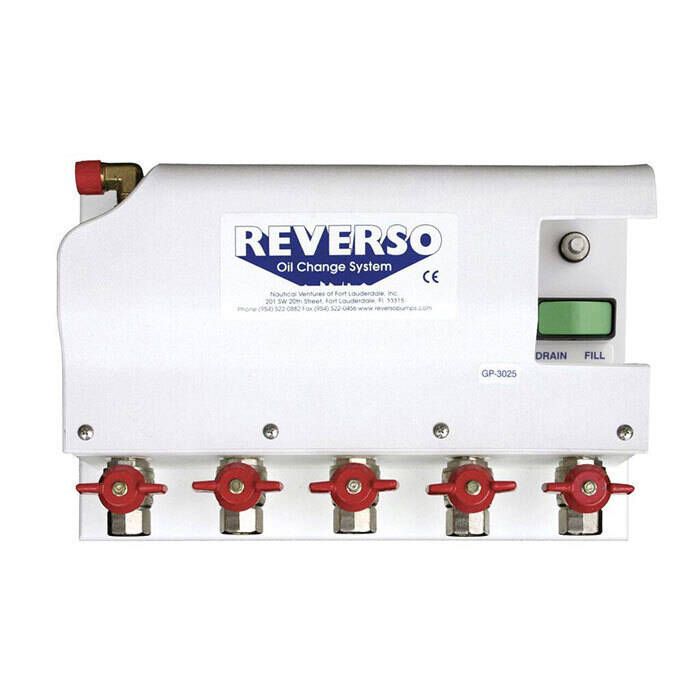 Reverso GP-3025 Oil Change System with Gear Pump
Item # 879339
Description
This oil change system features a reversible self-priming gear pump which will drain and fill your engine, transmission and generator with ease. Equip your engine room with this system and experience hassle free maintenance for years to come.
The GP-3025 model features 5 valves to service 2 engines, 2 transmissions and 1 generator.
Features:
Designed for twin-engine applications
Service 2 engines, 2 transmissions and 1 generator
Reversible (drains and fills engines)
Self-priming
Compact
Simplifies oil changes
Reduces chances of oil spills
Available Models:

Model: GP-3025-12 (12V DC) (43-2387)
Model: GP-3025-24 (24V DC) (43-2388)
Specifications:
Pump port 1/2" flare
Manifold ports 1/2" NPT full flow valve
Flow rate: 3 GPM (11.35 LPM)
Self-priming 5 ft (1.52 m) (wet gears)
Lift: 15 ft (4.6 m)
Materials:

Pump body: Brass
Gears: Bronze
Shaft: Stainless steel
Seal: Fluoroelastomer lip seal

Motor 12 or 24V DC
Breaker 20A @ 12V, 10A @ 24V
Dimensions:

A= 14.3" (363.2 mm)
B = 9.5" (241.3 mm)
C = 4.5" (114.3 mm)
Note: Product has 5 valves - the dimensional image shown is a 3-valve unit.
Part Numbers for Reverso GP-3025 Oil Change System with Gear Pump