Reverso Automatic Outboard Flushing System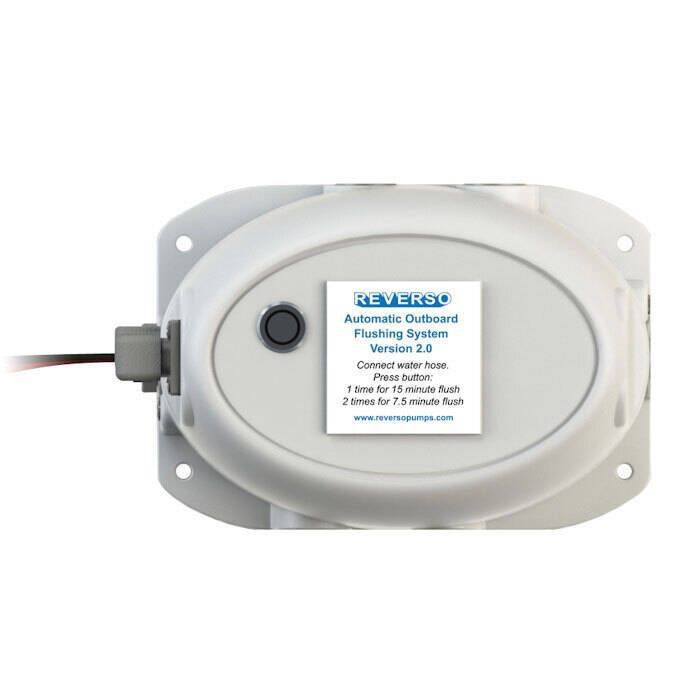 Reverso Automatic Outboard Flushing System
Item # 879318
Description
Flush your outboards with the press of a button when you install the Reverso Automatic Outboard Flushing System. Water is sent to each engine for a preset time until the last motor is flushed. The system automates the flushing sequence so you don't have to connect the hose to every flushing port. It works whether the vessel is in or out of the water, in the vertical or tilt position.
Built-In Solution to Flushing
The Reverso Outboard Flushing System can be installed at the OEM level or as a retrofit. Mounted on the bulkhead or transom locker, the system is permanently plumbed to each engine through the wiring loom and includes the hose connection and start button. Similar to Version 1.5, the Version 2 offers a separate hose connection and a waterproof start button that can be installed remotely near the transom and/or console. Minimizing the reach is a big added convenience.
Features:
Permanently-installed system to flush all outboard engines automatically in a sequence
Requires just a single hose connection

Automatically flushes each engine one at time until all have been flushed
Shuts down after all flushing is complete

Helps prevent engine corrosion, buildup of invasive species
Reduces cleaning time
Boat can be in or out of the water
3 Steps To Flushing Faster
Connect freshwater hose to the system
Press start button
Flushes one motor completely before moving to next, shuts off once all motors are flushed
Part Numbers for Reverso Automatic Outboard Flushing System