Revere ComfortMax Inflatable PFD/Life Jacket with Harness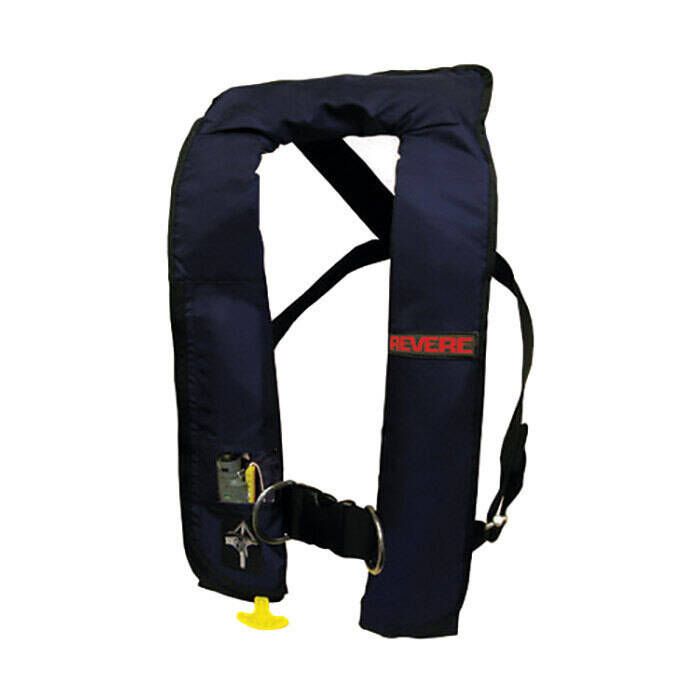 Revere ComfortMax Inflatable PFD/Life Jacket with Harness
Item # 879241
Description
Revere's ComfortMax Inflatable PFD / Life Jacket with Harness offers a manual inflation system, combining comfort with the convenience of instant CO2 inflation technology.
Features:
Manual activation (pull-cord with oral inflator tube backup); inflator status indicator with clear inspection window
Comfortable 2" wide waist strap and dual back straps for a secure fit
Neck area has no Velcro or edge binding to cause chafing or abrasion
Dual stainless steel waist belt adjusters
Includes D-ring for connecting kill-switch lanyard for safety
Provides 35 lbs buoyancy when inflated
Heavy-duty 420 Denier nylon fabric outer covering with inflation system access flap
SOLAS-grade retro-reflective tape on inflation bladder
Includes safety whistle
Supplied with owner's manual and "Think Safe" booklet
Specifications:
Approval: USCG Recreational Type V with Type III performance when fully inflated
Activation: Manual (pull-cord with oral inflator tube backup)
Size: Adult universal at least 16 years of age and 80 lbs or more with 30" - 52" chest size
Minimum height: 5' 5"
Recommended use: Fishing, sailing, boating, select paddle sports, industrial marine and law enforcement applications, etc
Buoyancy: 35 lbs when inflated
Re-Arm kit: Revere 45-RAKM
Service interval: Annual
Note: Not approved for use on personal watercraft, for white water paddling, water skiing, knee boarding or similar towed activities.
Note: This Type V PFD is approved ONLY WHEN WORN for use in lieu of a Type III PFD approved under 160.064 on uninspected commercial vessels less than 40 feet in length not carrying passengers for hire.
Note: Not approved for "hot work," not recommended for use by non-swimmers or weak swimmers unless worn inflated.
Part Numbers for Revere ComfortMax Inflatable PFD/Life Jacket with Harness