Raymarine Type 3 Autopilot Hydraulic Linear Drive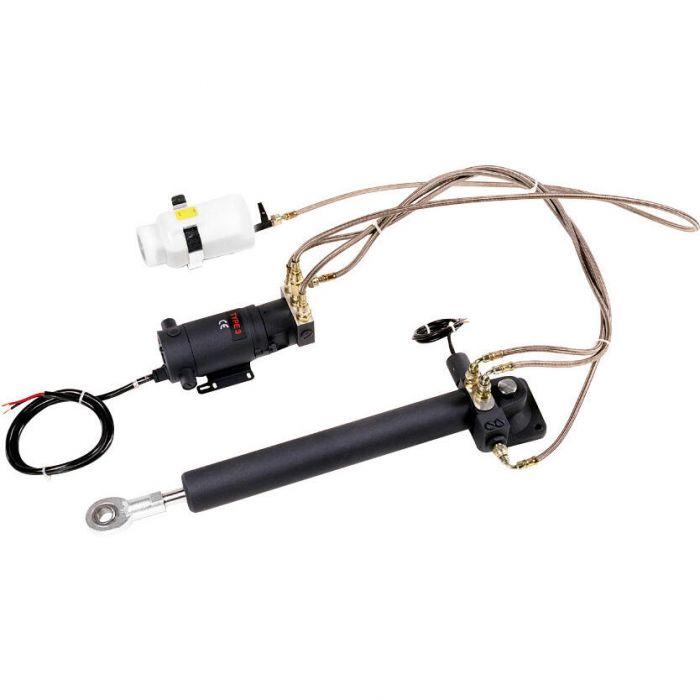 Raymarine Type 3 Autopilot Hydraulic Linear Drive
Item # 963711
Description
Hydraulic linear drive systems are self-contained hydraulic steering systems that allow Evolution autopilots to steer heavy displacement vessels with mechanical steering. Hydraulic linear drive systems consist of a high-performance reversing hydraulic pump, hydraulic steering ram, fluid reservoir and hydraulic lines. The system comes filled, bled and ready-to-install.
The included hydraulic steering ram will be anchored to the boat's structural members, and attaches to the rudder stock via an independent tiller arm. Accessory fittings from your steering system manufacturer may be required.
The Type 3 configuration is suitable for vessels with up to 35,000 kg (77,000 lbs.) displacement. All Linear Hydraulic Drive systems require an Evolution ACU-400 actuator control unit.
Specifications:
Peak thrust: 675 kg (1488 lbs)
Maximum vessel displacement: 35000 kg (77000 lbs)
Maximum stroke: 300 mm (12")
Maximum rudder torque: 2565 Nm (23100 lb/in)
Maximum stroke: 254 mm (10 ")
Maximum vessel displacement: 22000 kg (48500 lbs)
Maximum rudder torque: 1270 Nm (11300 lb/in)
Hardover to hardover time (+/- 35 degrees, no load): 12 seconds
Peak thrust: 1000 kg (2200 lbs)
Hardover to hardover time (+/- 35 degrees, no load): 10 seconds
Mineral based hydraulic oil: Minimum ISO VG10, minimum ISO VG40
WARNING
---
This product can expose you to chemicals which are known to the State of California to cause cancer, birth defects or other reproductive harm.
For more information go to www.p65warnings.ca.gov.
Part Numbers for Raymarine Type 3 Autopilot Hydraulic Linear Drive