Raymarine T101 Wireless Wind System - T101-916
Raymarine Stern to Stern Sales Event.
Purchase from $2,000 to $20,000 worth of Raymarine products and receive from up to $4,000 back.
Offer ends November 12th, 2023.
Manufacturer Rebate Available
View Details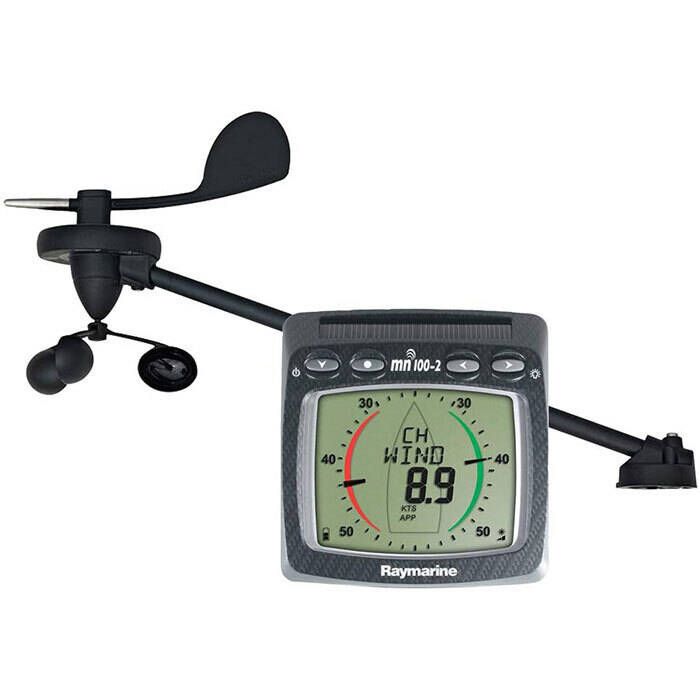 Raymarine T101 Wireless Wind System - T101-916
Item # 879107
Description
The Raymarine® T101 Wireless Wind System displays an analog wind direction dial with digital wind speed.
Features:
Absolutely reliable wireless system provides instant access to key wind data – without wires running through your hull or down your mast
Functions include:

True / Apparent Wind Speed & Angle
True / Apparent Close-Hauled Wind Speed & Angle
VMG to Wind
Turn to Waypoint
Heading
Locked Heading
Tack Course
Course Over Ground

Unique combination of analog and digital display formats
Simple to install and configure: No holes to drill in bulkheads and no wires to thread down your mast; display can be configured at any time
Self-powered: Solar powered with integrated lithium batteries that power the unit for life; power consumption is so efficient that units can run autonomously for up to 300 hours
Portability: Using clip-in cradles, display can be placed anywhere on your boat
Completely waterproof: display is sealed for life and submersible to 33 ft. / 10 m
Backlighting to (3) levels
Compatible with other manufacturers' instruments via NMEA
Solar powered masthead wind transmitter sends data to T112 analog display via wireless link
Masthead wind transmitter can be located up to 300 ft. from wireless instrument display
2-Year limited warranty (upgradable to 3 years upon product registration within 90 days of purchase)
Specifications:
Display: Analog wind direction dial with digital needle pointers and wind speed displayed in large 0.56" digits
Power: Solar / lithium batteries
Water Protection: Submersible to 33 ft. / 10 m
Dimensions: 4.3" W x 4.48" H x 0.83" D
In the Box:
T112 Wireless Analog Wind Display
T120 Wireless Wind Transmitter
Note: Not recommended for sailboats larger than 35 feet.
Part Numbers for Raymarine T101 Wireless Wind System - T101-916