Raymarine SR200 InfoLINK SiriusXM Receiver - E70499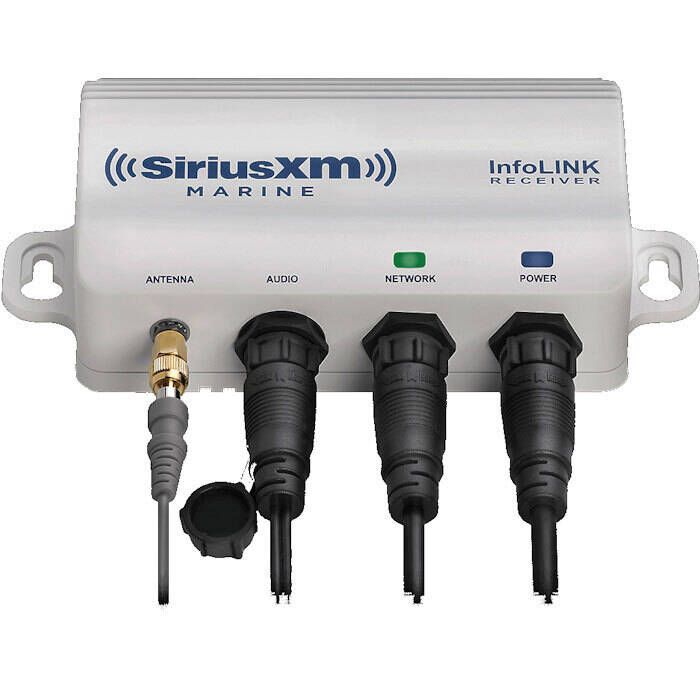 Raymarine SR200 InfoLINK SiriusXM Receiver - E70499
Item # 879086
Description
The Raymarine SR200 InfoLINK SiriusXM Receiver for MFDs brings subscription-based SiriusXM Marine weather and satellite radio to your Raymarine LightHouse 3 multifunction displays.
Essential information like weather radar, NEXRAD storm cell tracking, tropical storm tracks and localized forecasts are all easily viewable inside the LightHouse 3 chart application.
Fishermen can enjoy expanded information, including high-resolution coastal and offshore sea surface temperature overlays also displayed right on the live navigation chart.
The SR200 InfoLINK receiver can also provide access to over 150 channels of SiriusXM Satellite Radio programming.
Features:
Ease of Installation: The SR200 features an analog line output connection that easily connects to the auxiliary input on most marine stereo systems. SiriusXM channel selection, presets and controls are accessed from Raymarine's LightHouse 3 SiriusXM app. Super-compact and simple to install, the SR200 connects to the RayNet high speed Ethernet network and seamlessly delivers content to all your multifunction displays.
Connectivity: A low-profile Shakespeare SRA-50 SiriusXM Marine antenna kit is included. The antenna can be surface mounted on any horizontal surface with a clear view of the sky, or pole mounted with the included threaded adapter. SiriusXM Marine service is available in the continental United States, southern Canada and coastal waters.
Subscription information: The SR200 InfoLINK receiver requires a valid activation and subscription to SiriusXM Marine Weather and/or SiriusXM Satellite radio (sold separately). Visit: siriusxm.com/sxmmarine for details
Weather Features:
NEXRad Doppler Weather Radar: SiriusXM's NEXRad Doppler Weather Radar gives you live, up-to-the minute views of severe weather right on your Raymarine multifunction display. Thunderstorms, rain squalls and more are rendered in full-color with embedded information to show you the cell's direction, speed and intensity. Weather radar can be shown in a separate window alongside features like chartplotter, fishfinder and navigational radar, or you can overlay the weather radar on your navigation chart to determine how the weather is going to effect your route. Weather radar can be configured to show you the latest snapshot, or you can animate previous history to help visualize the direction of movement.
Satellite Sea Surface Temperature (SST): Fishermen in-the-know never go offshore without first checking the weather, including ocean temperatures. The Sirius Marine Weather SST layer clearly shows the ocean surface temperature and helps you readily identify temperature breaks, pockets, and upwelling. This allows you to find the fish faster, and burn less fuel by bypassing unproductive areas where fish are unlikely to be. The SST layer is fully color-coded for easy visualization of ocean conditions. Check other areas using the cursor or touchscreen by simply touching anywhere on the chart to see the exact water temperature, wave height, wind speed, direction and more.
Animated Surface Pressure, Wind Speed and Direction, and Wave Height: The Sirius Marine Weather system delivers the latest surface pressure charts right to your boat, automatically. Centers of high and low pressure, fronts, and key isobars are displayed with easy-to-read graphics. Charts can be configured to show the latest data, or to animate historical data along with predictions for the future. Wind barbs or scaled vectors can also be displayed as a layer on the chart. Like the surface pressure layer you can animate the wind chart to see changes over time and anticipate future conditions.
Storm Tracking for Tropical Storms, Hurricanes and Typhoons: The Sirius Marine Weather Storm Tracker displays the most up-to-the minute data on the position of hurricanes, tropical storms and typhoons. The storm's historical track is plotted along with its current position and the projected cone of uncertainty. With Storm Track, it's easy to see the approach of bad weather from thousands of miles away and make adjustments to route around it, or seek a safe harbor.
Watchbox Alerts Your Weather Guardian Angel: Thanks to the convergence of Sirius Marine Weather data with the live position feed from your Raymarine chartplotter, you'll never be surprised by severe weather again. The system continuously monitors for severe weather alerts for your location, and notifies you immediately with both audio and on-screen alerts when bad weather is approaching. Tornadoes, water-spouts, hurricanes, thunderstorms and more are all cause for Watchbox alerts. Should an alert be sounded in your area you will know immediately, and will have instant access to the full advisory from the National Weather Service or National Hurricane Center
Nearshore, Offshore and City Forecasts : Sirius Marine Weather delivers detailed weather forecasts for the continental United States and surrounding waters. With a few simple touches you can see the weather forecast for your exact position, or anywhere else in the Sirius coverage area. In addition to local forecasts you can access localized marine warnings, local and national Watchbox warnings and the latest tropical statements from the National Hurricane Center.
Surface Observation Stations and Offshore Buoy Reports: Sirius Marine Weather brings you the latest conditions from thousands of land-based and sea-based surface observation stations, fixed structures, and floating offshore weather buoys. Observation stations can be easily shown or hidden from view, and accessed with a simple touch of your finger or cursor. Thousands of weather observations are accessible including reports on air and sea temperature, wind speed and direction, wave height and period, visibility, atmospheric pressure, trending, and much more!
Audio Features:
SIRIUSXM Audio : Activate your SIRIUSXM satellite radio receiver that is built into your Raymarine weather hardware and enjoy channels of whatever you want to listen to. Commercial-free music, all your favorite sports, exclusive talk and entertainment. Not to mention comedy, news, traffic, weather and more. It's all here in one place. Simply line-out to your existing audio system (requires auxiliary input) or amplifier/ speaker system and channel surf directly from your Raymarine MFD.
SiriusXM Coverage Area: SiriusXM® Marine weather service is available in the continental United States and its coastal waters as well as Southern Canada.
Specifications:
Compatible displays: Axiom, Axiom Pro, Axiom XL (requires LightHouse 3.9 or newer software)
Weather subscription options: SiriusXM Marine Weather, Marine Offshore, and Coastal packages (not included)
Audio subscription options: SiriusXM Channel Line-up
Dimensions: 7.1" W x 3.56" D x 1.65" H (180mm W x 90.4 mm D x 42mm H)
Water ingress protection: IPX6/7
Nominal voltage: 12 or 24V DC
Operating voltage range: +9 to 32V DC
Connections:

SeaTalk HS 1 Port
SIRIUS Audio Out (line level) 4-pin audio output to 3.5mm stereo male
SIRIUS Antenna Input 1 connection (SMA) Antenna SMA - SMB adaptor - 20mm provided
In the Box:
SR200 InfoLINK SiriusXM Receiver
Shakespeare SRA-50 SiriusXM Antenna with pole and surface mounting kits
SRA-50 interconnect cable (25 feet)
SR200 InfoLINK to RayNet interface cable 6' 6" (2 meters)
Analog stereo (L/R) line output cable 6' 6" (2 meters)
Power cable 6' 6" (2 meters)
Mounting hardware
Installation guide, documentation kit
Part Numbers for Raymarine SR200 InfoLINK SiriusXM Receiver - E70499