Raymarine RD418HD HD Digital Radome
Raymarine Stern to Stern Sales Event.
Purchase from $2,000 to $20,000 worth of Raymarine products and receive from up to $4,000 back.
Offer ends November 12th, 2023.
Manufacturer Rebate Available
View Details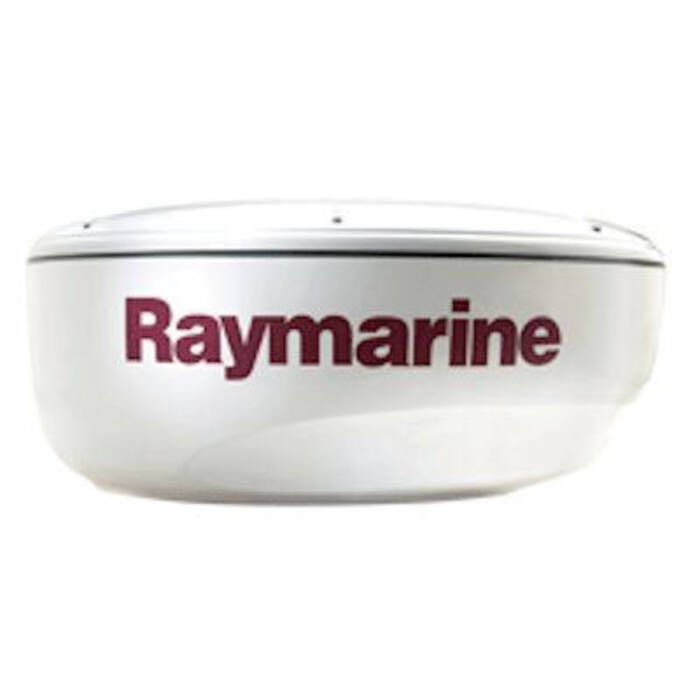 Raymarine RD418HD HD Digital Radome
Item # 922970
Description
Raymarine's HD Digital radome scanner combines the power and clarity of HD Digital signal processing with an ultra-compact scanner suitable for all types of vessels. Compatible with the New c-Series, e-Series, a-Series and gS-Series (for all other systems please see note at bottom of page). These radomes offer a 256-color radar display and the clearest, most lifelike radome presentation available from any radome scanner.
The RD418HD feature the same adaptive digital receiver technology found in open array antennas. By adjusting automatically to changing environmental and sea conditions, the HD Digital radome provides crisp, accurate contact echoes at short ranges, as well as outstanding long range performance up to 48 nautical miles.
Features:
Adaptive digital receiver automatically adjusts to changing environmental and sea conditions for a dramatically clearer picture
Fast digital receiver processor
256 color multi-level target display with selectable color palettes
New Bird Mode automatically optimizes the receiver for detecting sea birds above schools of fish
New High Speed Mode (48 RPM) automatically engages for optimal tracking of high speed targets at short ranges
Dual-range mode allows you to monitor both long and short ranges simultaneously with a single scanner and display
Specifications:
Antenna
Antenna Type: Patch Array
Beam Width (nominal): 4.9° horizontal, 25° vertical
Polarization: Horizontal
Rotation Rate: 24 rpm (nominal), 48 rpm under 3 miles unless 24 is selected
General
CE Approval: Conforms to 1999/5/EC
FCC Approval: Conforms to 47CFR Part 2 and Part 80
Input Voltage: 12 - 24 V DC
Power Consumption: 60 W (25 W Standby)
Waterproof: IPX6
Humidity Limit: Up to 95% at 95°F
Maximim operating wind speed: 100 kts
Maximum range Scale: 48 nm
Pulse Length/PRF:
Range (nm) / Pulse Length (ns)
0.25 or less / 75
0.5 / 100
0.75 / 100 / 3
0.75 expanded / 150
1.5 / 250
3 / 350
3.00 expanded / 450
6.00 or greater / 1.0 µs
Receiver
IF Frequenncy: 70 MHz (nominal)
Receiver Characteristic: Linear
Receiver Noise Figure: Less than 5 dB (including Low Noise Converter/Limiter & IF Receiver)
Receiver Bandwidth: Matched digital filter for each pulse length
Transmitter
Transmitting Frequency: 9405 +/ 25 MHz
Peak Power Output: 4.0 kW (nominal)
Transmitter:/ Solid-state modulator driving Magnetron
Standby Mode: Magnetron heater and control left on, all other services off
Duplexer: Circulator
Kit Includes a 10 meter Cable (A80228with Raynet Connectors)
Note: The Radar cable included is designed to work directly with the NEW e-Series, c-Series, a-Series, gS-Series and HS5 Networking Box with a Raynet connector. Customers with one of the following systems E-Series Classic, E-series Widescreen, C-Series Widescreen or the SeaTalk hs Networking box will also need to order an adapter cable (A80272 - 400 mm Male Raynet to Waterproof SeaTalk hs cable) for connection to these systems
Part Numbers for Raymarine RD418HD HD Digital Radome