Raymarine Raystar RS150 GPS Antenna with Pole Mount Adapter - T70327
Raymarine Stern to Stern Sales Event.
Purchase from $2,000 to $20,000 worth of Raymarine products and receive from up to $4,000 back.
Offer ends November 12th, 2023.
Manufacturer Rebate Available
View Details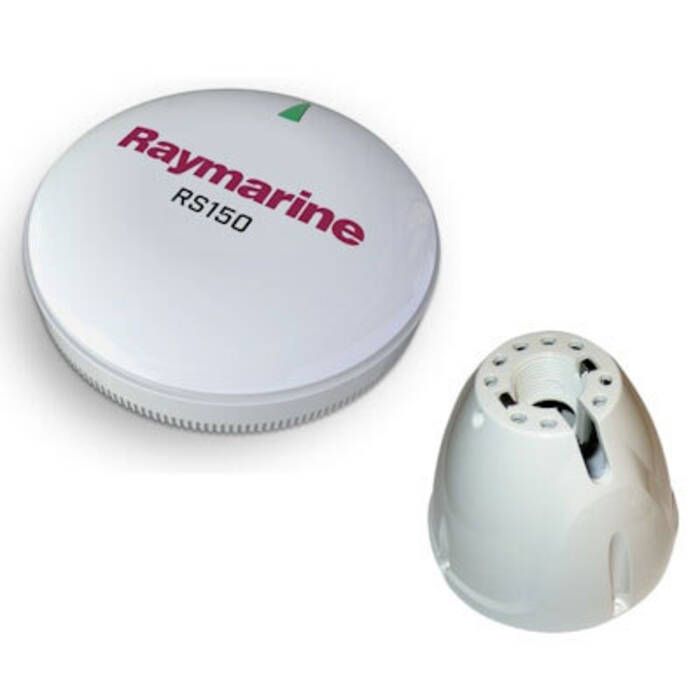 Raymarine Raystar RS150 GPS Antenna with Pole Mount Adapter - T70327
Item # 878989
Description
Raymarine T70327 Raystar RS150 GPS Antenna with Pole Mount Adapter is a compact and accurate Satellite Differential GPS.
Features:
Receiver provides pinpoint accuracy to Raymarine's Multifunction displays
A self contained waterproof GPS receiver and antenna combined
Delivers accuracy better then 3 meters by decoding GPS correction signals from the WAAS or EGNOS Systems
Includes a 1"-14 TPI antenna mount adaptor, for mounting on a standard threaded antenna mount
72-channel GPS receiver
Fast 10Hz position updates
Satellite differential GPS-compatible. Space-Based Augmentation System (SBAS) enabled with WASS, EGNOS, MSAS and GAGAN support
A GNSS receiver with GLONASS compatibility
Low power consumption: 30mA (1 LEN)
SeaTalk ng and NMEA2000 compatible (using a device net adapter cable)
Designed for low profile surface mounting or optional pole mounting
Specifications:
Nominal supply voltage: 12V DC (Powered by N2K / SeaTalk ng bus)
Operating voltage range: 8 - 32V DC
Power consumption: 30 mA max (NMEA LEN = 1)
Operating temperature: -13#176; F to 131#176; F (-25#176; C to +55#176; C)
Relative humidity max: 93%
Waterproof: IPx6 / 7
Supported connection protocols: SeaTalk ng, NMEA 2000 (certified) (via DeviceNet adaptor)
Sensitivity: High sensitivity - acquisition down to -163dBm
No. of channels: 72
Positioning System: GPS & GLONASS
Satellite Differential Type: WAAS (United States); EGNOS (Europe); MSAS (Japan); GAGAN (India)
Differential acquisition: Automatic
Position accuracy: (95%) <15m
Position accuracy with SDGPS: (95%) <5m
Speed accuracy: (95%) <0.3kt
Time to first fix from cold start: <2 minutes (< 45 seconds typical)
Time to first fix from hot start: < 8 seconds -72 hour hold up battery allows for hot start
Geodetic Datum: WGS84
Mounting: Surface / rail / pole (Rail or pole mount requires pole mounting adaptor - Included)

The unit can be mounted on a surface that is up to 28 mm (1.10 in) thick, approximately. To mount on a thicker surface longer studs will be required
The unit can be mounted using the optional Pole Mount Adaptor (A80370). Pole mounting requires a Pole with a 1 inch-14 TPI thread
Package Includes:
RS150 GPS Antenna with Pole Mount Adapter
Mounting seal
3 m (9.84 ft) SeaTalk ng spur cable
Documentation
M4 x 40 mm Threaded stud (3) (used for surface mounting)
Finger nuts (3) (used for surface mounting)
Note: Seatalk 1 systems need the optional E22158 converter kit (Sold Separately).
Part Numbers for Raymarine Raystar RS150 GPS Antenna with Pole Mount Adapter - T70327