Raymarine i60 Wind System - E70150
Raymarine Stern to Stern Sales Event.
Purchase from $2,000 to $20,000 worth of Raymarine products and receive from up to $4,000 back.
Offer ends November 12th, 2023.
Manufacturer Rebate Available
View Details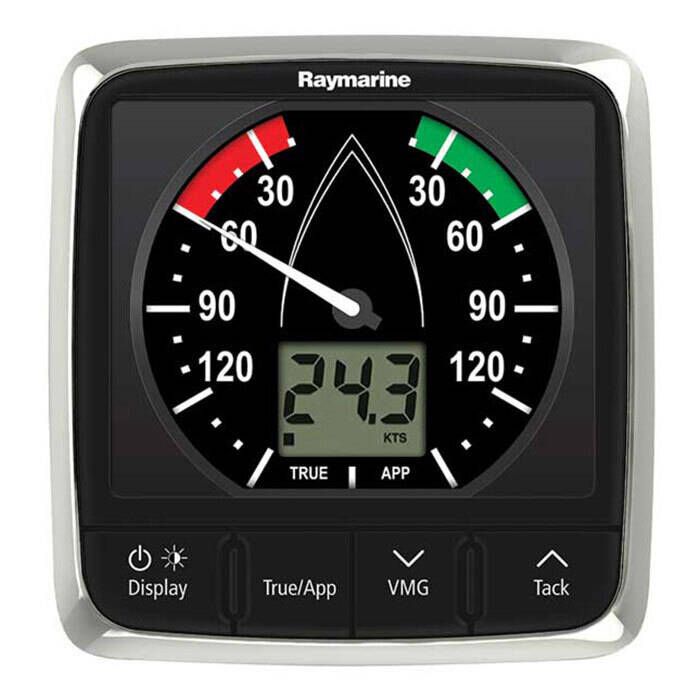 Raymarine i60 Wind System - E70150
Item # 878907
Description
The Raymarine® i60 Wind System displays an analog wind direction dial with digital wind speed.
Features:
Full-featured analog / digital wind display for cruising and racing sailboats
Functions:

Apparent wind speed and direction
Velocity made good (VMG)
Beaufort
Max. wind speed
True wind speed and direction (requires SeaTalk speed through water data)
Tack
Alarms for high / low wind angle, low true wind speed and max. true wind speed

Designed to complement Raymarine's new generation multifunction displays
Large numerals and digits, red backlighting for outstanding visibility in all lighting conditions
Excellent viewing angles and large push-button controls for ease of use at sea
SeaTalk, SeaTalk ng and NMEA 2000-compatible interfaces
Built-in transducer interface
Low power consumption for longer battery life
Multiple data source support eliminates potential data conflicts
Front-mounted design for simple installation
Same footprint as the older Raymarine ST60+ instrumentation
Supplied with waterproof gasket for flush mounting
2-Year limited warranty (upgradable to 3 years upon product registration within 90 days of purchase)
Specifications:
Display: Analog wind direction dial with digital wind speed display, red backlighting
Nominal Voltage: 12V DC
Operating Voltage: 10 - 16V DC
Power Consumption (typical): Less than 1 W (display only) / 2.4 W max. with transducer connected
Current Consumption: 45 to 65 mA (display only) / 200 mA max. with transducer connected
Water Protection: IPX6 (protected against high-pressure water stream from any angle)
Connections: 2 x SeaTalk ng and transducers / compatible with marine industry CAN systems
Dimensions: 4.3" W x 4.52" H
Cut-out for i60 Wind Display: 3.63" Dia
Optional compatible Raymarine Transducer (sold separately): Long-arm (26") forward wind transducer (E22079) with 100' cable
In the Box:
i60 Wind Display (E70061)
Short-arm (14.5") forward wind transducer (E22078) with 100' cable
Clip-on front bezel, black (R70368)
Clip-on front bezel, gunmetal (R22168)
SeaTalk ng blanking plug (A06032)
1' 3" SeaTalk ng spur cable (A06038)
Sun Cover (R22169)
Note: The i60 Wind Instrument was designed to support the same wind transducer that the ST60 Wind Instrument had been designed to support. Accordingly the wind transducers leads may simply be unplugged from the ST60 Wind Instrument and then plugged into the corresponding color coded terminals of the i60 Wind Instrument.
Part Numbers for Raymarine i60 Wind System - E70150