Raymarine Element 9 HV Sonar/GPS Display
Raymarine Stern to Stern Sales Event.
Purchase from $2,000 to $20,000 worth of Raymarine products and receive from up to $4,000 back.
Offer ends November 12th, 2023.
Manufacturer Rebate Available
View Details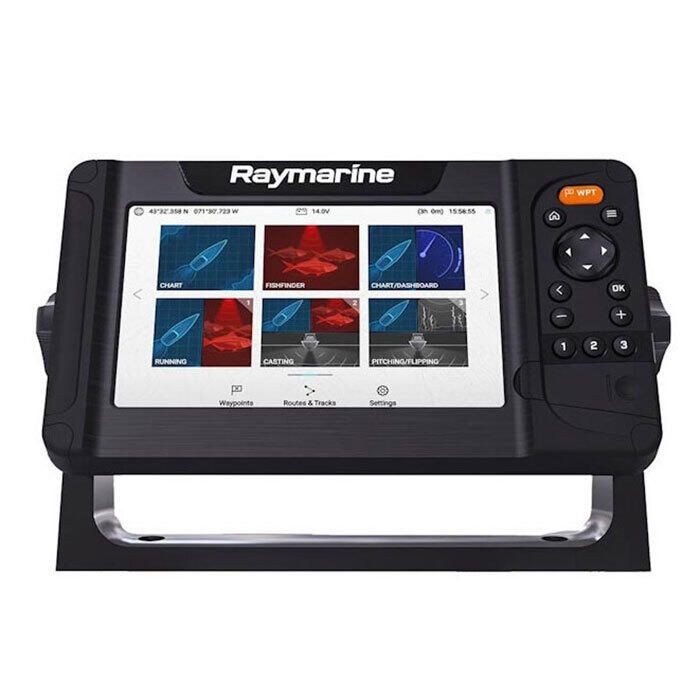 Raymarine Element 9 HV Sonar/GPS Display
Item # 932789
Description
Knowledge is power—and the Element™ Chirp Sonar / GPS series from Raymarine gives you the upper hand when hunting for fish and their habitat. Delivering the sharpest view of the underwater world, Element's HyperVision™ 1.2 megahertz sonar technology, turns up the resolution of DownVision, SideVision, and RealVision 3D to a new level of precision imaging and fish identification, letting you see structures, vegetation, and fish with amazing life-like clarity.
Element HV Features:
Bright and Rugged: sunlight viewable displays with integrated GPS/GNSS receiver
Superior HyperVision™: 1.2 megahertz Chirp sonar technology delivers much higher resolution imaging compared to conventional side and down scanning sonars
RealVision™ 3D Built-In: accurately identify the location of ledges, channel beds, and other contour changes
Fast Quad-Core Processor: for instantaneous chart re-draw and sharp 3D imaging
Simple LightHouse Sport Operating System: optimized for fishing, the LightHouse Sport OS is fast and easy-to-learn
Intuitive controls: an oversized waypoint key for marking your favorite spots and three user-programmable keys
Smart mapping: with support for Raymarine LightHouse NC2 charts with Fishing Hot Spots®, Navionics, and C-MAP
Make your own maps: Raymarine RealBathy™ personal sonar mapping and Navionics SonarCharts Live support
(Optional) LightHouse North America Chart
(Optional) HV-100 Transducer
Element HV Specifications:
Display: 9" Optically-bonded LCD
GPS/GNSS: Built-in GPS / GLONASS
Sonar type: Built-in Chirp Sonar, DownVision (Standard and Hyper), SideVision (Standard and Hyper), RealVision™ 3D (Standard and Hyper)
Sonar connection: 15 pin HyperVision™ type connector
Sonar depth:

Chirp Sonar = 274 m (900')
DownVision™ Standard = 183 m (600') | DownVision™ Hyper = 30 m (100')
SideVision™ Standard = 91 m (300') | SideVision™ Hyper = 30 m (100')
RealVision™ 3D Standard = 91 m (300') | RealVision™ 3D Hyper = 30 m (100')

Supported NMEA2000 Networking:

Input: NMEA2000 compatible engines (max 2), tank sensors (max 4), heading sensor (for chart stabilization)
Output: GPS (for VHF Distress and DSC)
SeaTalk ng: Requires A06045 DeviceNet female (F) 400 mm adapter cable
Optional HV-100 Transducer Specifications:
Combines HyperVision, DownVision, SideVision, RealVision, and conventional Chirp sonar channels into one simple installation
Material: Plastic
Max Depth (feet): 3D: 300 / Down: 600 / Port: 300 / Starboard: 300 / Conical: 900
Frequency (KHz): 1.2 MHz Chirp / 350 kHz Chirp / 200 kHz High Chirp
Beam Width: 3D: 180° / Down: 60° / Conical: 25°
Records: Depth / Temperature
Hull Material: Fibreglass / Metal
Cable Length: 19'/6 m
Deadrise Angles: 0-90°
Included:
Element 7 HV
Trunnion bracket with mounting hardware
Surface mount kit with mounting hardware
Sun cover
Power / NMEA2000 1.5 m cable
Documentation pack
Installation Instructions (2.00 MB)
Part Numbers for Raymarine Element 9 HV Sonar/GPS Display