Raritan Purasan EX Hold N' Treat System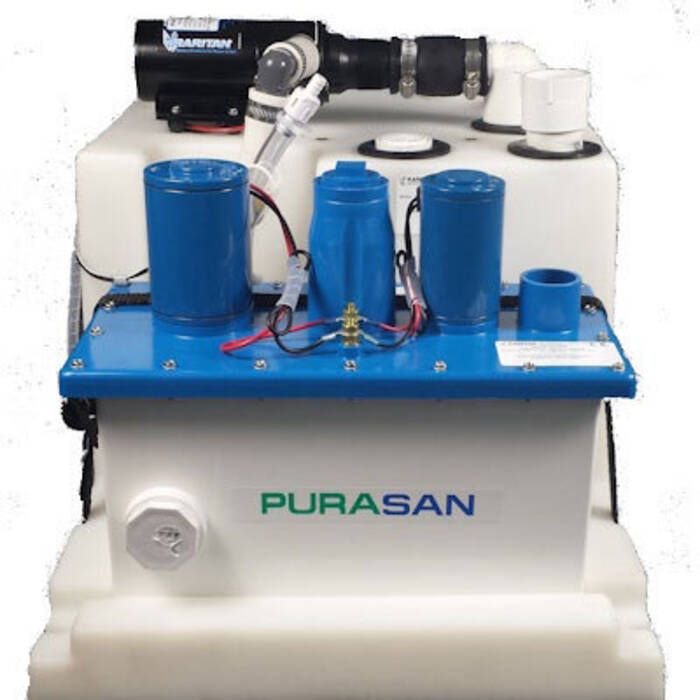 Raritan Purasan EX Hold N' Treat System
Item # 878565
Description
The Raritan 12V DC Purasan EX Hold and Treat System is a total onboard, environmentally friendly waste management system for vessels up to 65 feet in length. Utilizing one of the best waste treatment technologies available, Raritan's system enables users to satisfy discharge regulations in all U.S. waters by combining a 15 gallon holding tank with Raritan's USCG certified Purasan EX Type I MSD system. Users can HOLD waste when required and then TREAT waste and discharge it when permissible using a simple control interface.
Features:
The Raritan Purasan EX Onboard sewage treatment device is a Type I MSD, for use in any waters not declared a Federal No Discharge Zone
The newly designed Purasan EX features a low tablet warning and a better tablet dispenser
Tablet replacement is cheaper than the original Purasan
Each system includes a 15 gallon holding tank and an integrated Purasan EX Type I MSD in a single, compact footprint
Holding tank is seamless and constructed of durable polyethylene with consistent 3/8" wall thickness
Each tank includes two toilet inlets, two vents and one pump-out fitting for ultimate flexibility
User-friendly interface allows easy navigation to all modes of operation
Wall panel signals users when disinfectant tablets are depleted or system attention is required
Reliable tank sensors monitor tank levels continually in all modes
System is extremely energy efficient with only .33 amp hours per cycle required
Designed for use in both saltwater and freshwater applications
Each unit is assembled by hand and manufactured in the USA
All units are individually tested and backed by Raritan's one-year Limited Warranty
Specifications:
Water Source:

The water used to flush the head can be pressurized fresh water or seawater
Pressurized freshwater is required but is used to fill the tablet dispenser during each cycle (Approximately 8 ounces)

WARNING: Not for use in areas requiring ignition protection
Inlet and Outlet Ports: 1-1/2" NPT
Maximum Roll/Pitch Angle: 30°
Maximum Temperature Exposure: 120° F (49° C)
Maximum Total Flush Volume: 1.5 gallons/flush (5.7 liters/flush)
Water - fresh, salt or brackish
Approximate Number of cycles per tablet--50
Hold n Treat capacity: 6 gallons (23 liters) per hour , 140 Gallon( 530 Liters) per day
Treatment Unit Dimensions: 16" W x 13-1/2" H x 8-3/4" D
U.S.C.G. Type I MSD Certification #159.015/0010133/0 (12V) 159.015/0010134/0 (24V)
System Includes:
21T15 Holding tank 15 Gallons
PURASAN EX
21P Macerator pump
214A Macerator Pump Relay
21PSOS Sensor set high & low level
1242 # 14 Hose clamps for 1" hose
1326 1" hose
31-120 Elbow: 1-1/2 PVC 90 (not shown)
31-122 1-1/2 Inlet plug (not shown)
31-134 screws 10-32 x 1" hex head (4)
640107 1-1/2" seal
F144 # 10 S/S Flat washers (4)
HETLW10S # 10 ext tooth lock washer
PLCF1-2EP Coupling Flex 1-1/4" EPDM
21PDIP1 Dip tube assembly
21PDIP2 Pump out dip tube assembly
PLB1-54P 1-1/2" X 1" bushing, MIPT X FIPT
PLEA91-0P 1" Elbow, Combo, INSERT X MIPT
PLE91-0P 1" Elbow INS X INS
21PSTRAP Hold down strap assembly
41-135A Tablet cartridge
Amended Installation Instructions
WARNING
---
This product can expose you to chemicals which are known to the State of California to cause cancer, birth defects or other reproductive harm.
For more information go to www.p65warnings.ca.gov.
Part Numbers for Raritan Purasan EX Hold N' Treat System