Raritan K.O. Kills Odors Bioactive Treatment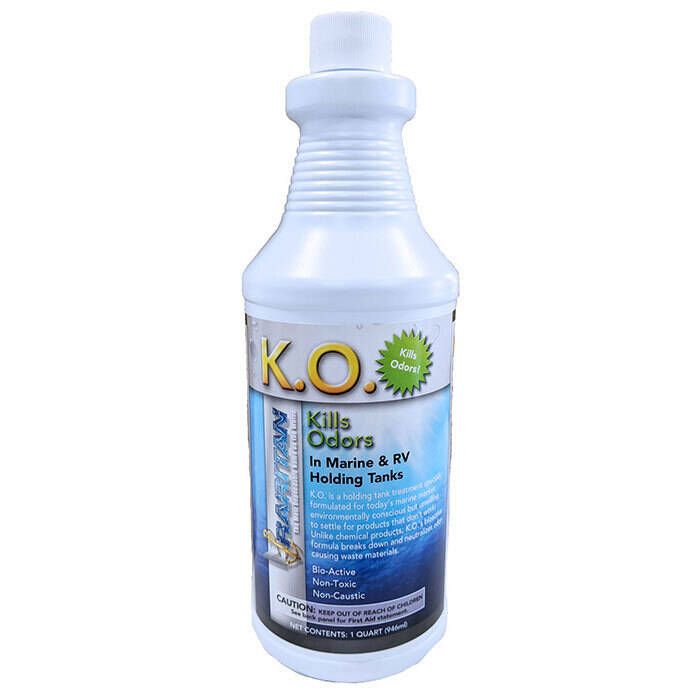 Raritan K.O. Kills Odors Bioactive Treatment
Item # 923282
Description
Raritan K.O. Kills Odors Bioactive Treatment is a holding tank treatment specially formulated for today's marine market. It eliminates odors at the source and is a bioactive treatment, NOT a chemical product.
Features:
K.O. Kills Odors and is a Bioactive treatment

A safe, non-chemical and non-polluting product

Eliminates holding tank odors at their source
K.O. works when nothing else will
K.O. is Not a Chemical Product

K.O. is More Effective than Any Chemical or Enzyme Product
K.O. utilizes live, odor-killing bacteria which digest liquids, solid waste and paper, totally emulsifying them so there's no need to add "tissue digesters" or other "boosters" to your system
Chemicals only mask odor temporarily

Unlike chemical products, K.O.'s bioactive formula breaks down and neutralizes odor-causing waste materials instantly

The bacteria in K.O. actually neutralize the odor-causing elements in waste, effectively converting the contents of your holding tank to an odor-free product
Although they kill odor causing bacteria, chemicals also kill other bacteria that suppress odor
Chemicals can actually cause the odor problems you're trying to solve
Enzymes stimulate the breakdown of waste already in the tank, but are not effective against odor, and are diluted by new waste as it's added
Unlike chemicals, the discharge from tanks treated with K.O. is welcome in on-shore sewer and septic tank systems

A small amount of K.O. can easily keep a boat odor-free between pump outs

You need only (4) ounces of K.O. per 25 gallon tank capacity
There is seldom any need to add K.O. between pump outs, nor do you need to pump out until the tank is full, making K.O. less expensive to use than lower-priced products

Container Size: Quart
Note: K.O. should not be used in combination with ordinary bowl cleaners/chemicals. Raritan C.P. (Clean Potty) is the only cleaner that can be combined with K.O. because C.P. is a bioactive cleaner, that uses no chemicals, so it won't kill the good bacteria in K.O.
Part Numbers for Raritan K.O. Kills Odors Bioactive Treatment
Reviews
Rated

5

out of

5
by
IslandDucks
from
A Bene and Great Raritan Odor Treatment
As described, a great price, and this shipped quicky from Defender Marine.
Date published: 2023-07-26