Racor Turbine 500 MAM Series Marine Fuel Filter/Water Separator Assembly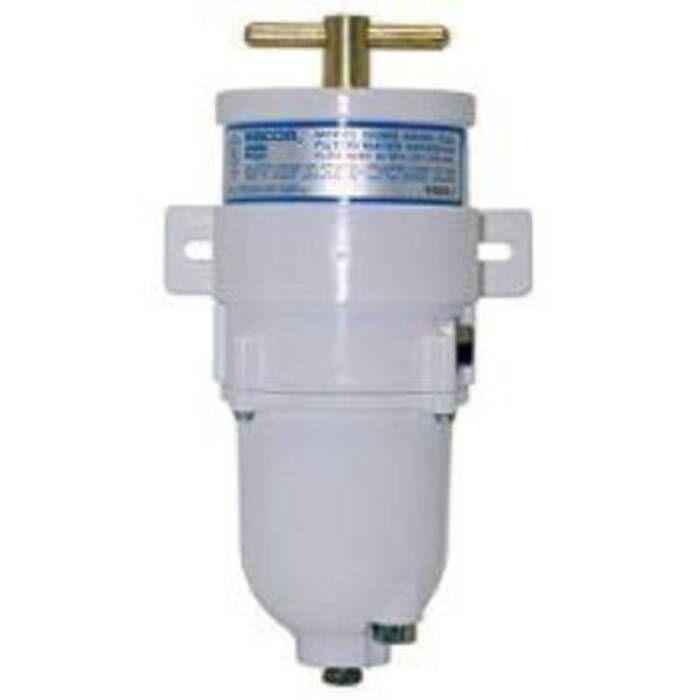 Racor Turbine 500 MAM Series Marine Fuel Filter/Water Separator Assembly
Item # 878400
Description
Note: Coast Guard Inspected Commercial Vessels must use Racor MAM Series Fuel Filter / Water Separators with Metal Bowls
Turbine Series filter assemblies are designed to be installed on the vacuum side of the fuel transfer pump for best efficiency and protect precision engine components from dirt, rust, algae, asphaltines, varnishes, and especially water, which is prevalent in engine fuels.
This filter removes contaminates from fuel using the following legendary three stage process:
Stage One: Separation : As fuel enters the filter assembly, it moves through the centrifuge and spins off large solids and water droplets which fall to the bottom of the collection bowl.
Stage Two: Coalescing : Small water droplets bead-up on the surface of the conical baffle and cartridge element. When heavy enough, they too fall to the bottom of the bowl.
Stage Three: Filtration : Proprietary Aquabloc®II cartridge elements repel water and remove contaminants from fuel down to two micron (nominal). They are waterproof and effective longer then water absorbing elements.
Features:
Designed for Diesel Fuel
Heavy duty construction
Installs quickly
Easy to service
Clear collection bowl
Self-venting water drain
Filter Element: 2 or 10 Micron
USCG Approved Metal Bowl
Note: Coast Guard Inspected Vessels must use Racor MAM Series Fuel Filter / Water Separators with solid Metal Bowls
Ports: 3/4"-16 UNF (Port fittings sold separately)
Dimensions: 11" high x 6" wide x 7" deep
Flow Rate: 60 GPH
Maximum operating pressure: 15 PSI
Replacement Elements:

2010SM-OR = 2 Micron
2010TM-OR = 10 Micron
2010PM-OR = 30 Micron
Part Numbers for Racor Turbine 500 MAM Series Marine Fuel Filter/Water Separator Assembly