Racor SNAPP Disposable Fuel Filter/Water Separator Kit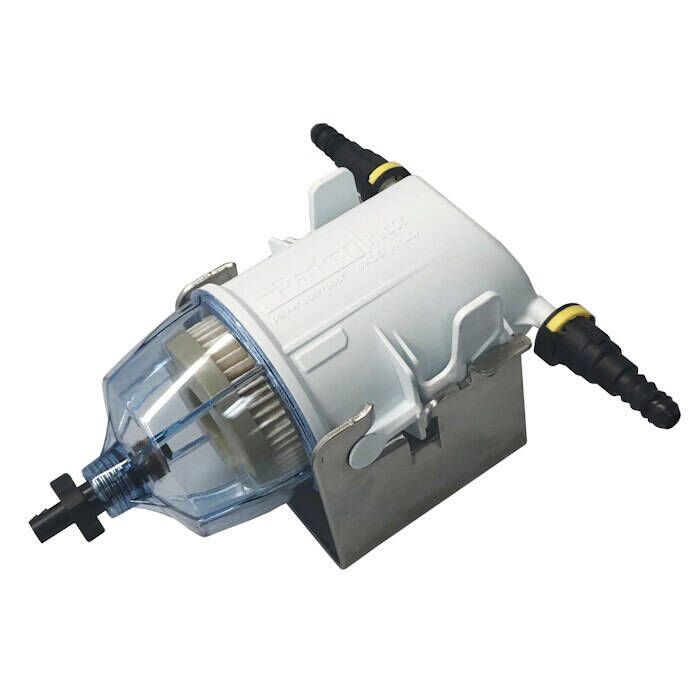 Racor SNAPP Disposable Fuel Filter/Water Separator Kit
Item # 878366
Description
The Racor SNAPP™ Series of quick change fuel filter / water separators is ideal for outboard motor applications. The SNAPP Series is a compact, disposable fuel filter / water separator with premium filtration capabilities. Unlike conventional small engine filters, which use a spin-on element that requires a strap wrench to service, the SNAPP filter features a patented bracket system and quick-connect fittings that eliminate the need for seals or threads. This allows change-outs to be performed quickly, easily, and without the use of tools.
Optional quick connect fittings include 90° 3/8", 90° 5/16", straight 5/16" straight 3/8". Sold separately.
The filter only requires 2-1/2 inches front clearance for servicing, making it suitable for installation wherever you need it. The SNAPP filter housing's one-piece, high-impact nylon structure is coupled with a powder-coated or stainless steel (for marine use) mounting bracket to resist corrosion in all environments. The clear collection bowl allows for accurate inspection of fuel quality. A self-vent drain is also available for easy removal of collected water.
At the heart of the SNAPP fuel filter is Racor's proprietary Aquabloc® technology. Aquabloc® is a unique engineered media that incorporates pleat-spacing corrugations and a graduated pore structure to increase dirt-holding capacity and extend filter life. The media is waterproof and rustproof, capturing contaminants while the specially treated surface separates and coalesces water from the fuel, causing the water to gather into large droplets that then fall into the clear collection bowl. Defender offers your choice of 10 micron or 2 micron filter elements:
10 Micron (98%@10 micron) - Captures more contaminants than 30 micron elements, and is more effective at stopping water from entering the engine

Extends the life of the entire fuel system
Flow up to 34 GPH (129 LPH) in gasoline
Flow up to 26 GPH (98 LPH) diesel

2 Micron (98%@4 microns) Provides maximum water removal and filtration and is capable of protecting all modern injection systems, while greatly extending the life of difficult-to-service on-engine filters

Flow up to 40 GPH (151 LPH) in gasoline
Flow up to 26 GPH (98 LPH) in diesel
Benefits:
At just 4 inches wide with 2 to 2-1/2 inch bolt spacing, the SNAPP filter and bracket easily replaces existing Racor and other brands of filters and can be mounted anywhere you need it
Quick-connect fittings eliminate the need for tools, making filter change-outs quick, easy, and painless
Removes water that enters the system through condensation in the fuel tank

Any water present in the fuel stream will support bacterial growth, which can cause clogged filters and result in the formation of corrosive acids
Susceptible components then rust and corrode, leading to erosion and wear of critical fuel system components

Removes hard particles present in air that are introduced during fueling, such as sand and silica
Saves time and money by eliminating unplanned maintenance and unscheduled downtime from system component failure
Suitable for use in both marine and non-marine applications
Features:
Designed for engines with a fuel flow rates up to 40 GPH (151 LPH) in gasoline and 26 GPH (98 LPH) in diesel
Heavy-duty, corrosion-proof, high-impact nylon construction
Corrosion-resistant, permanent stainless steel or powder-coated steel mounting bracket
Universal bracket accommodates 2 to 2-1/2 inch bolt spacing
Two male straight quick connects for 3/8" hose included
Patented Aquabloc® media
Clear collection bowl with self-venting drain
Compatible with E10 gasoline, diesel, biodiesel up to B20
Rated for up to 50 psi pressure spikes
Specifications:
Dimensions:

Height: 7.82" (198.6 mm)
Width:

3.83" (97.3 mm) at bracket
6.14" (155.9 mm) at fuel ports
8.30" (210.7 mm) at fuel ports with straight fittings

Depth: 4.09" (103.9 mm)

Ports: 3/8" (9.5 mm) per SAE J2044
Fittings: 3/8" (9.5 mm) Straight quick connect per SAE J2044 - additional fittings available
Clearance: 2.50" (63.5 mm)
Rated Pressure: 50 psi (3.5 bar)
Water Sump Capacity: 3.4 oz (100 ml)
Fuel Type:

Diesel (up to B20)
Gasoline (up to E10)
WARNING
---
This product can expose you to chemicals which are known to the State of California to cause cancer, birth defects or other reproductive harm.
For more information go to www.p65warnings.ca.gov.
Part Numbers for Racor SNAPP Disposable Fuel Filter/Water Separator Kit