Racor Fuel Filter/Water Separator Assembly - 230RMAM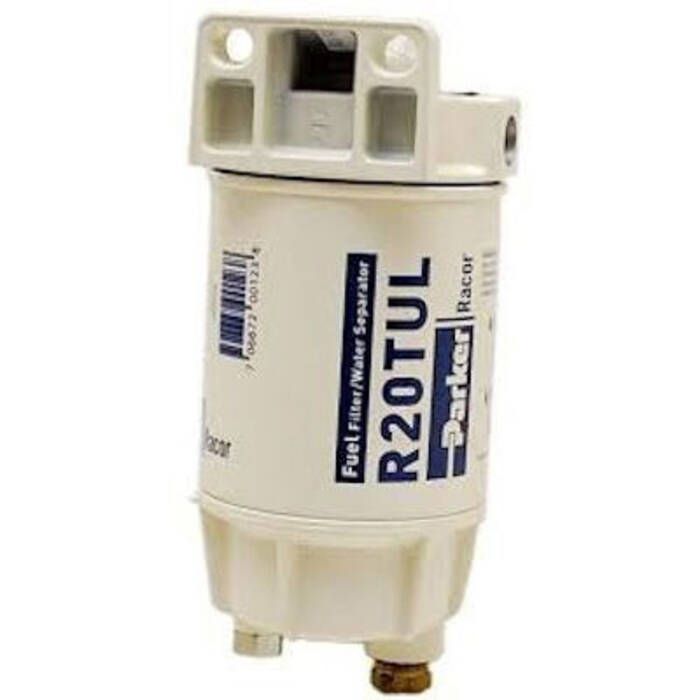 Racor Fuel Filter/Water Separator Assembly - 230RMAM
Item # 878338
Description
Features:
Racor 230RMAM Fuel Filter / Water Separator Assembly
These fuel filter/water separators are designed for high performance applications, and will help your marine diesel engine perform better than ever with clean, water-free fuel
The mounting head, filter body, and bowl are protected with a durable electrostatically applied powder coating for superior corrosion resistance
This spin-on filter design is simple to service
Gasket and O-ring materials designed for diesel use
The reusable metal contaminant collection bowl features a metal plug for draining out unwanted muck and water

Corrosion-resistant construction means bowls will not deteriorate from water collection, alcohol blended fuels, exposure to harsh additives, salt spray, or UV light
Aluminum metal bowls for inboard powered boats meet 33 CFR and USCG regulations

These cost-effective filters are for on-engine or remote mounting, and come with hand-operated fuel priming pumps, a feature that allows for easy filter replacement and air purge
When it's time for service, only the filter element is replaced

The bowl and drain plug are reused
Water-in-fuel (WIF) sensor upgrades are available to alert operators to drain accumulated water from the bowl

Racor's UL-listed filters meet ABYC, ASTM, ISO, and many other global standards for filters used in marine engine rooms
High contaminant holding capacity replaceable elements provide long service life
Specifications:
Fuel Type:

Diesel

Only
Flow Rate: 30 GPH (114 LPH)
Filter Element: 10 Micron
Bowl Material: Aluminum
Integral Primer Pump: Yes
Micron Rating: 98% @ 10 Micron (Aquabloc media)
Port Size: 1/4"-18 NPTF (Female) (Port fittings sold separately)
UL certification: Yes
Applications:

Marine Power Generation
Marine Propulsion
Any Diesel engine filtration
Racor Marine Spin-on Series filters use Aquabloc® media to reliably remove dirt and water from diesel and gasoline fuels. Aquabloc® media is pleated, corrugated, and arranged for optimum water rejection and longest service life. Fuel entering the filter head is diverted downward past the vertical media pleats, allowing larger water droplets and contamination particles to fall directly to the collection bowl. Smaller water droplets converge and coalesce on the specially treated media surface until they are large enough to also drop to the collection bowl. Small contamination particles are stopped at the surface of the Aquabloc media, while even smaller particles are held deeper in the media layers. The result is the driest, cleanest motor fuel available for your marine engine.
Part Numbers for Racor Fuel Filter/Water Separator Assembly - 230RMAM