Racor Dual Filter - Turbine 500 Series Fuel Filter/Water Separator - 75500FGX10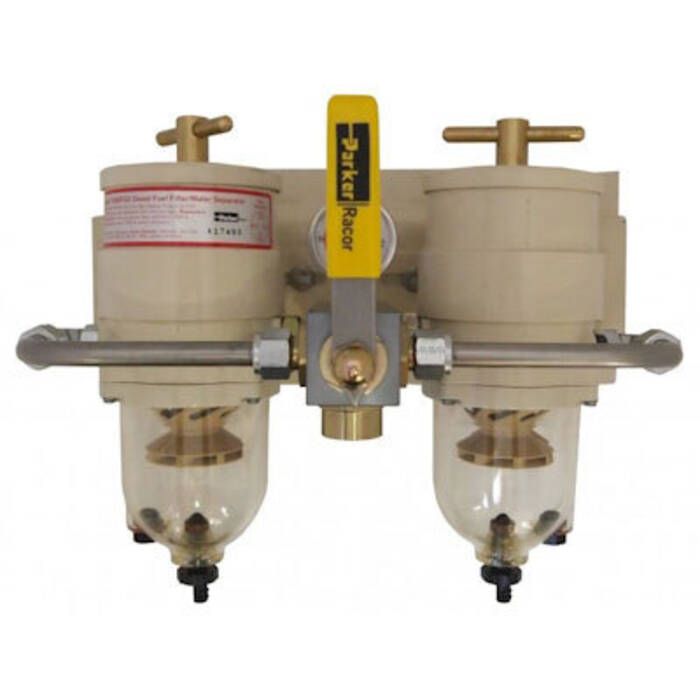 Racor Dual Filter - Turbine 500 Series Fuel Filter/Water Separator - 75500FGX10
Item # 878335
Description
When engines demand heavy duty, high capacity water separation and fuel filtration, the Racor Turbine Series is the most complete, efficient and reliable engine protection you can install. Symbolizing Racor's continuing commitment to the science of filtration, the Turbine Series has established its position as the filter/separator often imitated, but never equaled. Models which include an aluminum bowl or stainless steel shield meet ASTM FS1201 certification, are UL-Listed, American Bureau of Shipping, Veritas, Det Norske Veritas, ISO 10088 and U.S.C.G. accepted. For severe service, all-metal bowls should be specified
Features:
Designed for Diesel Fuel
Heavy duty construction
Installs quickly
Easy to service
Clear collection bowl
Self-venting water drain
Filter Element: 10 Micron
See-Thu Bowl without metal shield
Ports: 3/4"-16 UNF (Port fittings sold separately)
Flow Rate: 120 GPH
Maximum operating pressure: 15 PSI
Replacement Elements:

2010SM-OR = 2 Micron / Brown Print
2010TM-OR = 10 Micron / Blue Print
2010PM-OR = 30 Micron / Red Print
Note: Coast guard inspected vessels must use metal bowls
A single valve on all of the double manifold MAX models isolates one filter / separator for service while the other keeps operating. This way, you keep running while draining contaminants from the collection bowl or while changing filter elements.
Turbine Series filter assemblies are designed to be installed on the vacuum side of the fuel transfer pump for best efficiency and protect precision engine components from dirt, rust, algae, asphaltines, varnishes, and especially water, which is prevalent in engine fuels. They remove contaminates from fuel using the following legendary three stage process:
Stage One: Separation : As fuel enters the filter assembly, it moves through the centrifuge and spins off large solids and water droplets which fall to the bottom of the collection bowl.
Stage Two: Coalescing : Small water droplets bead-up on the surface of the conical baffle and cartridge element. When heavy enough, they too fall to the bottom of the bowl.
Stage Three: Filtration : Proprietary Aquabloc®II cartridge elements repel water and remove contaminants from fuel down to two micron (nominal). They are waterproof and effective longer then water absorbing elements.
Part Numbers for Racor Dual Filter - Turbine 500 Series Fuel Filter/Water Separator - 75500FGX10