Propspeed Propeller and Running Gear Coating System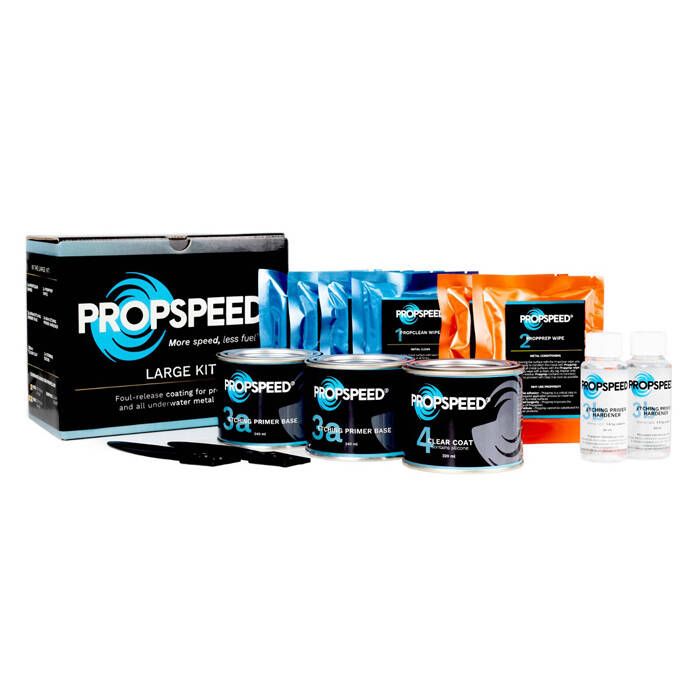 Propspeed Propeller and Running Gear Coating System
Item # 878152
Description
PropSpeed foul-release coating is specially formulated to keep running gear and any other underwater metals, free of marine growth and protected against corrosion.
Features:
Long-lasting, ultra-smooth, integrated foul release system
Dramatically reduces the ability for fouling to occur
Designed to increase vessel speed and fuel efficiency
Environmentally friendly so it doesn't harm marine life

Contains no tin, copper, biocides, or anti-slime additives

Exceptionally strong chemical and physical bond between the metal substrate, primer, and top coat ensures the coating will stay on your running gear
Reduces corrosion and lowers maintenance costs
PropSpeed's effectiveness does depend on movement of your boat - the more you use it, the better PropSpeed performs
May be applied to any metal part below the waterline, including propellers, shafts, struts, rudders, trim tabs and through-hull fittings
Safe for use on aluminum components
Clear coat can also be applied directly to plastic bow-thruster propellers and underwater light lenses
Safe to haul out boat for maintenance or winter storage but be sure not to pressure wash coated gear
Multiple kit sizes available. Perfect for DIY boaters and marine trade professionals alike

Propclean ensures that the metal surface is completely free of contaminants and ready for Propprep
Propprep is critical in the chemical preparation of the metal surface to be coated
Etching Primer base and Etching Primer hardener combine to create tenacious adhesion and corrosion resistance
Clear Coat forms a slick outer layer that marine growth cannot adhere to
Specifications:
Select kit size and coverage
Color: Yellow
The running gear temperature must be a minimum of 59° F or 15° C and continue to be at least that temperature during the process of application
Application temperature is for running gear, NOT ambient temperature
Temperature and time windows are critical for proper adhesion and protection
Application stages:

Metal surface preparation: Sanding the surface or using PropStrip
Initial cleaning using PropClean
Metal conditioning using PropPrep
Applying Metal etching primer
Applying clear coat top coat

A minimum of eight hours drying time is required after final coat at 59° F
If the running gear temperature is below 59° F or 15°C, a minimum of 24 hour curing time is recommended
Be sure to watch video and read complete instructions prior to application
WARNING
---
This product can expose you to chemicals which are known to the State of California to cause cancer, birth defects or other reproductive harm.
For more information go to www.p65warnings.ca.gov.
Part Numbers for Propspeed Propeller and Running Gear Coating System