Propspeed Lightspeed Foul-Release Underwater Light Kit - 15 ml - LSP15K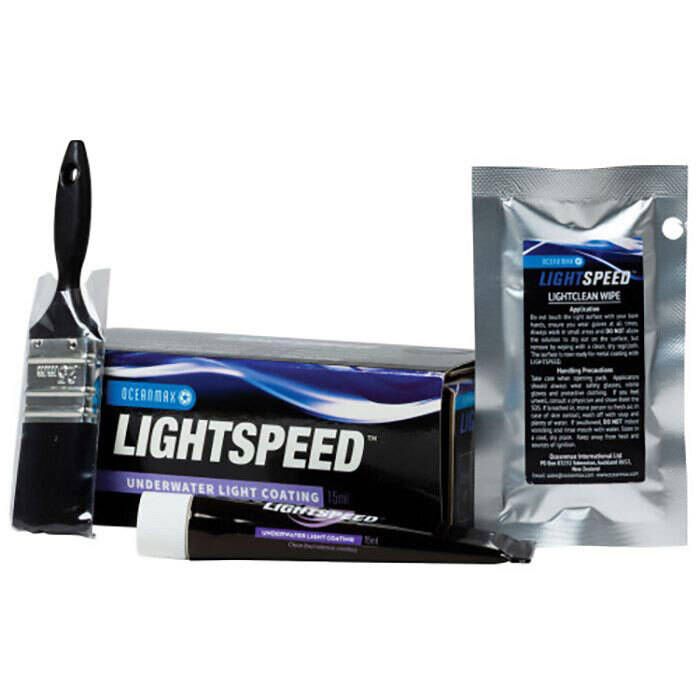 Propspeed Lightspeed Foul-Release Underwater Light Kit - 15 ml - LSP15K
Item # 878150
Description
Keep your lights shining bright with Lightspeed! Protect your underwater lights from marine fouling, including barnacles, oysters, mussels, seaweed and algae. Underwater lights generate light and heat, creating environmental conditions that favor marine growth. Conventional antifouling paint designed to prevent marine growth on hulls and running gear is unsuitable for underwater lights as it is not transparent. Lightspeed prevents marine growth adhering to the surface of underwater lights.
Endorsed by Lumishore®
Features
Lightspeed is suitable for boat lights, fishing lights, and dock lights
Increases longevity of lights - protects lenses and housings
Increases performance of lights
Coating lasts a minimum of 12 months
Lightspeed can sit out of water for extended periods of time in warm or cold climates with no adverse effects
Environmentally friendly:

Lightspeed contains no copper, tin or any other toxic substances
Lightspeed simply prevents marine growth from adhering
Specifications:
Binder type: Silicone polymer
Solvent: Aromatic/Aliphatic blend
Color: Clear coating, glossy finish
Drying time:

20 minutes touch dry
Minimum drying time before launch: 8 hours at 68°F or 24 hours (40 - 60°F)

Recoat time: Between 8 hours and 5 days at 68°F
Lightspeed kit includes: Lightspeed, Lightspeed wipe and applicator brush
Coverage: Approximately 1 square foot / 15 mL tube (Four, 4" lights)
Shelf life: 3 years
WARNING
---
This product can expose you to chemicals which are known to the State of California to cause cancer, birth defects or other reproductive harm.
For more information go to www.p65warnings.ca.gov.
Part Numbers for Propspeed Lightspeed Foul-Release Underwater Light Kit - 15 ml - LSP15K