ProMariner ProIsoCharge 120 Amp Intelligent Alternator Distribution System
$162.41 - $173.22
$146.16 - $155.89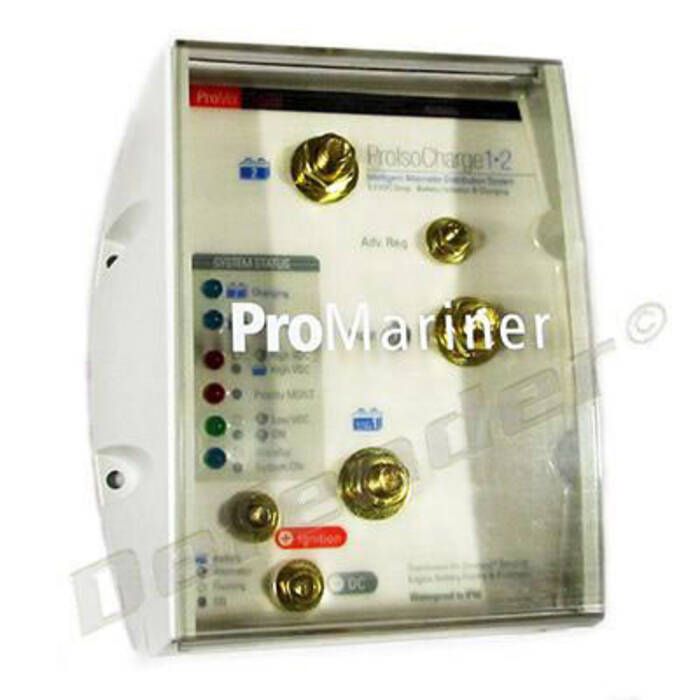 ProMariner ProIsoCharge 120 Amp Intelligent Alternator Distribution System
Item # 923404
Description
The ProMariner ProIsoCharge 120 Intelligent Alternator Distribution System (23121) is an innovative output distribution system that protects the health of the main engine start battery while charging other independent battery banks. This unit features a single alternator input and outputs for 2 battery banks.
Features:
Properly charges and conditions your vessel's batteries / banks while underway
Most innovative "zero volt loss" engine alternator charging isolator available
You save space and time by eliminating traditional low efficiency diode isolators and ancillary voltage sensitive relays or solenoids to isolate and charge multiple battery banks
All digital design delivering active battery status and automatic engine battery health priority while digitally distributing the full output of your engine's alternator(s)
Digital software based battery bank and alternator monitoring
Priority management

If the engine battery is healthy it can be taken off line (from charging) to create a power boost to a bank under load that requires priority recovery

Digital control and annunciation of charging system faults

Fault conditions to include high and low alternator input and over voltage protection and annunciation of high voltage conditions that may be present on any one of the battery banks connected that are also connected to other charging sources (gen set, combi, etc.)

Digitally controlled ignition interlock

Active Distributed-on-Demand™ battery bank management will only activate with ignition power on

Advance regulator remote sense output provided for precision alternator algorithm control
Easy Installation

Modular design for easy install
Includes all terminal stud insulator boots and protective snap on unit cover
Fuse all inputs and outputs within 7 inches to protect DC wiring
Unit is self protected with gold plated hardware for hassle free terminations

LED Status Center provides underway charging and battery bank real time status
Ignition protected
Built-in current limiting safety
Designed and constructed to Marine UL 1236 design with CE compliance
Specifications:
System volts DC: 12
Maximum DC amps: 120
Alternator inputs: 1
Battery outputs: 2/3
Dimensions: (L x W x H): 5.35 x 5.875 x 3.125 inches
Weight: 2 lbs
ProMariner ProIsoCharge Manual
WARNING
---
This product can expose you to chemicals including di(2-ethylhexyl)phthalate (DEHP) which are known to the State of California to cause cancer, birth defects or other reproductive harm.
For more information go to www.p65warnings.ca.gov.
Part Numbers for ProMariner ProIsoCharge 120 Amp Intelligent Alternator Distribution System