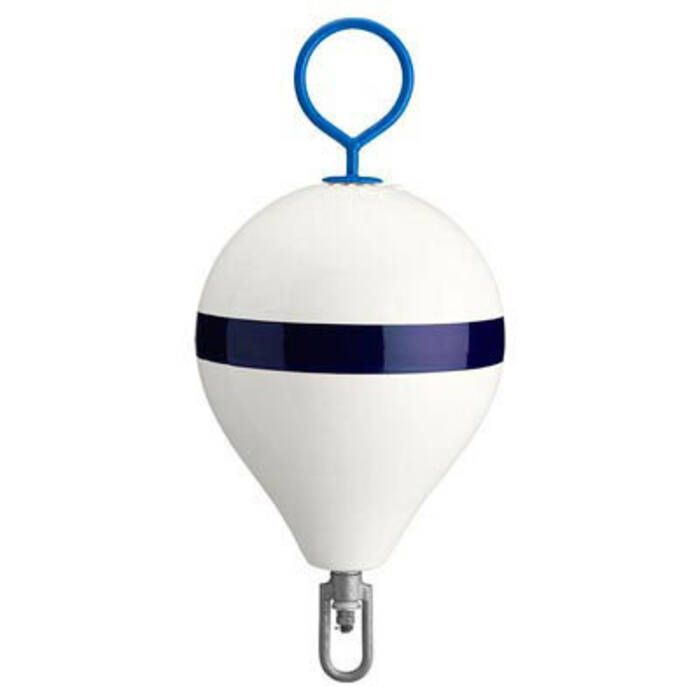 Polyform CM-2 Center Rod Buoys
Item # 877667
Description
The Polyform CM-2 Series Inflatable Mooring Buoys is a Center Rod Buoy that has been designed to provide the ultimate in strength, durability and versatility, providing increased security to any mooring .
Features:
Provides up to 35% more buoyancy than hard shell buoys
Mooring iron made from 1/2-inch galvanized steel with the additional protection of a vinyl coated eye
A larger eye (4-3/8" diameter) and swivel (1-1/2" Dia. along) provides maximum strength
Soft vinyl surface won't harm boat finishes
Polyform's unique vinyl valve seals securely
Even wall thickness for strength and durability
Buoyancy 55 lbs
Diameter: 13.5"
Length: 18"
Note Fluorescent Red Buoys do Not meet the State of Connecticut's Mooring Buoy Regulations (see below). Please Check Your State's Regulations before Purchasing as a Morring Buoy.
State of Connecticut DEPARTMENT OF TRANSPORTATION I Rev. 7/97 BUREAU OF AVIATION & PORTS: MOORING BUOYS SHALL BE WHITE WITH A CLEARLY VISIBLE HORIZONTAL BLUE BAND AROUND THE CIRCUMFERENCE OF THE BUOY CENTERED MIDWAY BETWEEN THE TOP OF THE BUOY AND THE WATERLINE. THE WEIGHT OF THE ANCHOR AND NAME OF THE VESSEL SHOULD BE INDICATED ON THE BUOY.
Part Numbers for Polyform CM-2 Center Rod Buoys