Plastimo Inflatable IOR Dan Buoy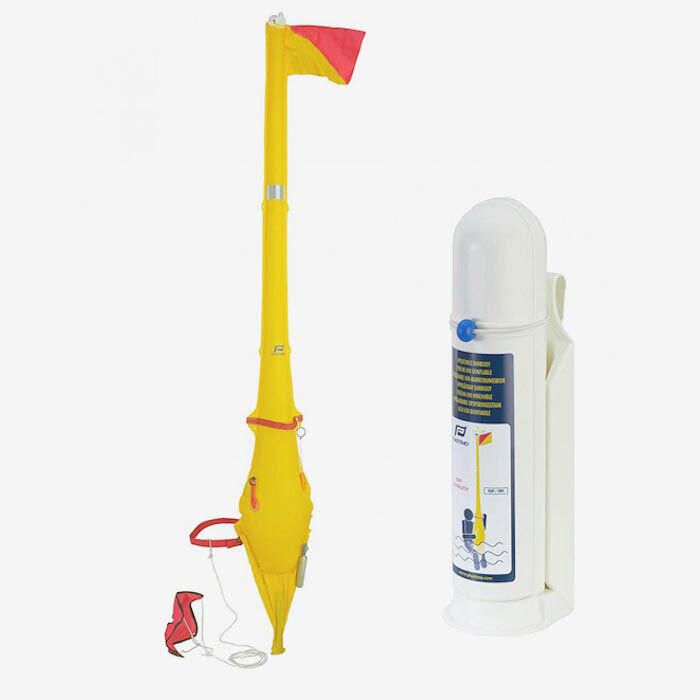 Plastimo Inflatable IOR Dan Buoy
Item # 877592
Description
The Plastimo Inflatable IOR Dan Buoy is an automatically inflated, ballasted, high-visibility inflatable MOB pole with retro-reflective tape and an adjustable webbing sling seat to provide rest for crew overboard.
Features:
Automatic activation
High-visibility inflatable MOB pole with retro-reflective tape
150 N buoyancy
ISAF-ORC compliant
Grab handle
Adjustable webbing sling seat

Provides rest for crew overboard

Automatically activated flashing LED light
Signal whistle and red / yellow MOB flag
Rigid ballast with V-shaped batten structure

Acts like a keel for optimum stability

Drogue anchor (included)
Torpedo-shaped yellow ABS plastic storage canister
Specifications:
Activation: Automatic inflation
CO2 Cylinder Size: 60g
Buoyancy: 150 N
Material (IOR Dan Buoy): Polyurethane-coated nylon
Canister Color: White or Yellow
Dimensions:

Height Above Water (inflated MOB pole): 6.5 feet
Drogue Anchor: 11 x 11 inches
MOB Flag: 12.6 x 7.9 inches
Storage Canister: 19.3 H x 5.1 dia. (inches)

Flashing LED Light:

Luminous Intensity: 0.75 cd
Duration: 8 hours min.
Visibility: 360°

Re-Arm Kit: Plastimo 50374
Note: Rail clips are sold separately. Plastimo #415010 (Set of 2) are required for a secure rail mount installation.
Part Numbers for Plastimo Inflatable IOR Dan Buoy