Pettit Unepoxy HRT Seasonal Antifouling Paint
$45.99 - $139.99
$39.08 - $111.98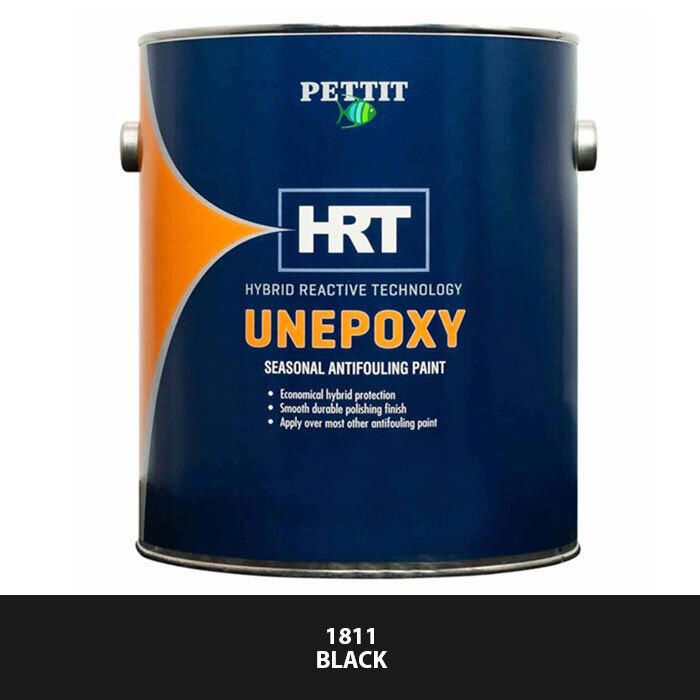 Pettit Unepoxy HRT Seasonal Antifouling Paint
Item # 877437
Description
Pettit Unepoxy HRT single-season, copper hybrid, antifouling paint features a high-density biocide to maximize effectiveness and film modifiers to reduce yearly buildup, maintain uniform color consistency, and provide a smoother finish than traditional bottom paints. Also, its ease of use, impressive coverage, and attractive price tag make it an excellent choice as a boatyard "house paint".
Features:
HRT provides excellent antifouling protecting
Hybrid Reactive Technology

High-density biocide to maximize antifouling effectiveness
Has film modifiers to reduce yearly paint buildup and maintain uniform color consistency

Single-season use
Lighter, smoother finish than traditional paints
Great for power and sailboats
Flat finish that may be polished
High-copper, hybrid protection
Compatible over most bottom paints
Specifications:
Finish: Flat
Solids by Volume: 42%
Coverage: 500 sq. ft. /gal
VOC: 475 grams/liter (max)
Biocide: Cuprous Oxide = 23.7%
Flash Point: >105° F
Application Method: Brush, roller, airless or conventional spray
Maximum Roller Thickness: 3/16"
Number of Coats: 1 minimum per season with additional coats at the waterline
Wet Film Thickness: 3.75 mils
Dry Film Thickness: 1.5 mils
Application Temp: 50° F. Min./90° F. Max
Minimum Dry Times (hours):

Degrees = Hours to Touch/Hours to Recoat/Hours to Launch

90° F = 1/4 hour/1-1/2 hours/6 hours
70° F = 1/2 hour/3 hours/10 hours
50° F = 1 hour/6 hours/16 hours

Thinner: 120 Brushing thinner
WARNING
---
This product can expose you to chemicals which are known to the State of California to cause cancer, birth defects or other reproductive harm.
For more information go to www.p65warnings.ca.gov.
Part Numbers for Pettit Unepoxy HRT Seasonal Antifouling Paint