Orion Red SOLAS Signal Rocket Parachute Flare - 800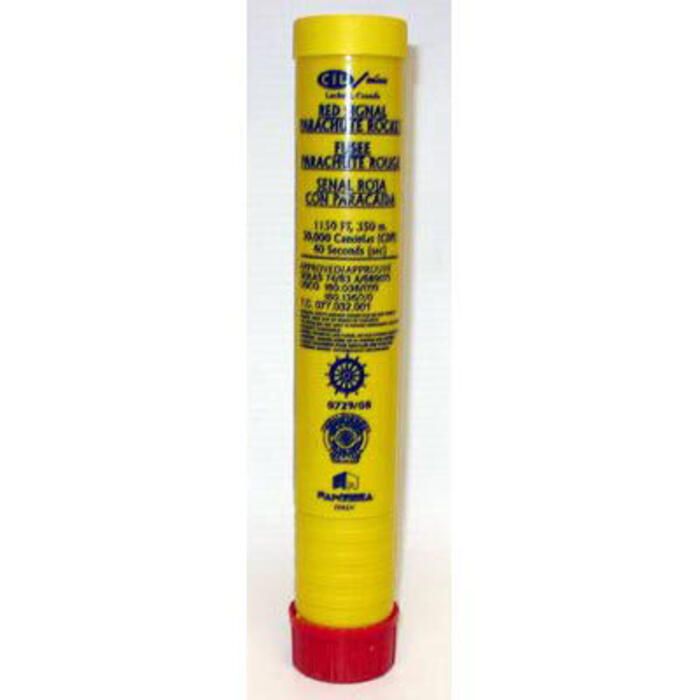 Orion Red SOLAS Signal Rocket Parachute Flare - 800
Item # 877001
Description
The Orion Red SOLAS Signal Rocket Flare is engineered to burn brighter and longer than the USCG requires, staying afloat / burning for 40 seconds.
Features:
Orion 800 Red SOLAS Parachute Signal
Self contained launcher / parachute aerial signal.
Color: Red
Trigger launch system sends a red signal over 1000' feet into the air
Burn Time: 40 seconds
Luminosity: 30,000 candlepower
Altitude: 1150 feet
Visible for 30 miles.
SOLAS and USCG Approved Day / Night Signal, Type: Aerial Flare
Recommended for anyone who cruises for extended periods of time or travels offshore over night
Sold each
Locate Signals vs Alert Signals:
Visual Signals and Flares rely on line of sight. Due to the curvature of the earth and line of sight restrictions, potential rescuers can only see a handheld electronic light and handheld flares (Locate Signals) up to 3 miles away. Anyone beyond 3 miles will not see Locate Signals. This is why aerial flares (Alert Signals) should also be on your boat. Alert Signals can be seen as far away as 41 miles (See Site Chart link below) to alert potential rescuers you require assistance. As rescuers approach, Locate Signals help pinpoint your exact location.
Part Numbers for Orion Red SOLAS Signal Rocket Parachute Flare - 800