Orion Offshore Sportfisher First Aid Kit - 844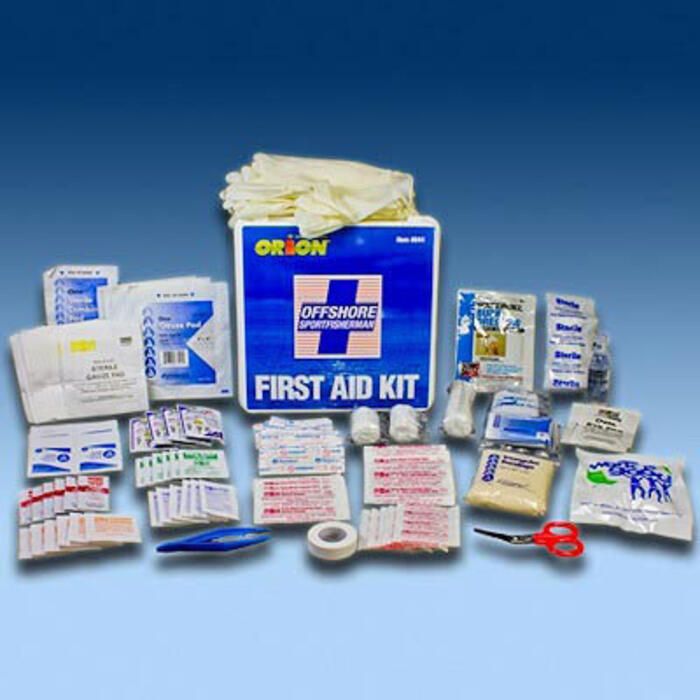 Orion Offshore Sportfisher First Aid Kit - 844
Item # 876998
Description
Most of us don't like medical emergencies but all vessels should be equipped for them. The size of the kit, and it's components, should be based on how many people will be aboard, where you are going and how long you will be gone, and how long it will take to reach professional medical care.
Features:
The Orion Sportfisher First Aid Kit offers total protection for your family and guests' basic first aid needs
This kit contains the necessities any offshore fishermen will need to prevent an early return to the dock
Comes packed with a full assortment of items in a hard, waterproof case that can be easily mounted to the bulkhead in need of an emergency
Supply List:
(Provided by Manufacturer)
Adhesive Strips

(50) Adhesive Strips
(5) X-Large Adhesive Strips
(5) Knuckle Bandages
(5) Fingertip Bandages

Wound Dressings

(8) Gauze Pads, 3"
(5) Gauze Pads, 4"
(2) Gauze Bandages, 2"
(1) Gauze Bandages, 4"
(1) Large Wound Pad
(1) Adhesive Tape
(2) Eye Pads

Antiseptics, Eye Flush, Medicinals

(1) Eye Flush
(2) Eye pads
(6) First Aid/Burn Cream
(30) Antiseptic Wipes
(6) Sting Relief Wipes
(3) Sunscreen Packets
(10) Aspirin
(12) Motion Sickness Tablets

NEW! Burn Module

(1) Water Jel Dressing
(1) Large Gauze
(1 pr.) Latex Gloves

Additional Products

(1) Triangular Bandage
(1) Cold Pack
(1) Scissors
(1) Forceps
(1) First Aid Instructions
(6) Latex Exam Gloves
(1) CPR Mask
(1) Rescue Blanket
Users:
Boaters
Kayakers
Backpackers
Hikers
Bikers
Backcountry Skiers
Hunters
Campers
Pilots
Snowmobilers
EMTs
Search & Rescue ( SAR )
RVs
Off Roading
WARNING
---
This product can expose you to chemicals including di(2-ethylhexyl)phthalate (DEHP) which are known to the State of California to cause cancer, birth defects or other reproductive harm.
For more information go to www.p65warnings.ca.gov.
Part Numbers for Orion Offshore Sportfisher First Aid Kit - 844