Orion Locator PLUS Marine Signal Kit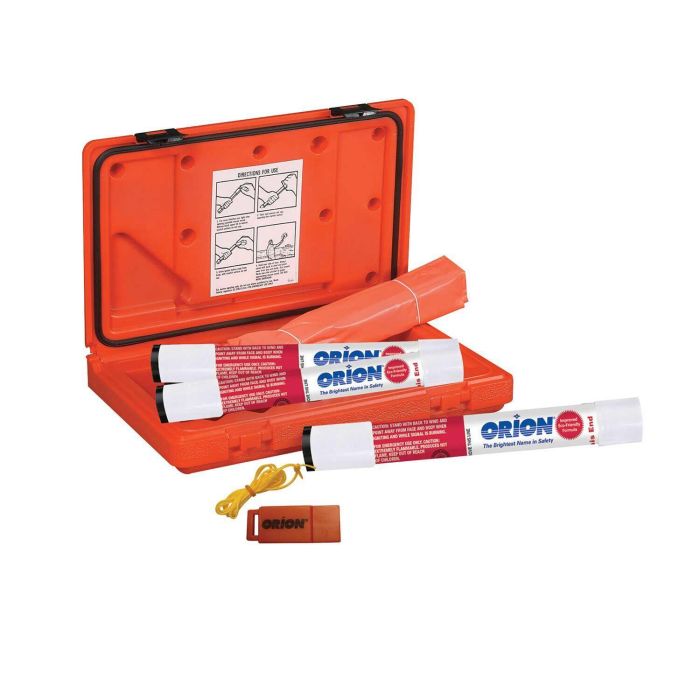 Orion Locator PLUS Marine Signal Kit
Item # 934013
Description
Features:
Requires no batteries for ignition. Flares contain a self- ignition system, are waterproof and float.
LOCATE signals communicate "Emergency" and helps direct potential rescuers to your location. Can be seen from 3 miles.
Recommended to use ALERT aerial signals along with LOCATE handheld signal for best safety coverage.
Signals manufactured in USA with certain imported components.
Required on all vessels over 16 foot operating in US Coast Guard regulated water including the Great Lakes. Must be replaced every 42 months.
Included:
(3) Eco-Friendly red hand flares that burn up to 3 minutes each at up candela. Flares EXCEED U.S Coast Guard Requirements for Day and Nighttime signaling
(1) 3' x 3' Orange Signal Flag with 4 ties that is U.S Coast Approved for Daytime signaling
(1) Orange Safety Whistle with lanyard that produces a loud 116db blast at 1 meter, pealess design, won't freeze
(1) Safety Manual that contains important use and storage information. Packed in a floating, hard plastic case that stores easily and protects signals
Part Numbers for Orion Locator PLUS Marine Signal Kit