Onyx Youth General Purpose Life Jacket/PFD
$20.99 - $21.99
$17.99 - $20.99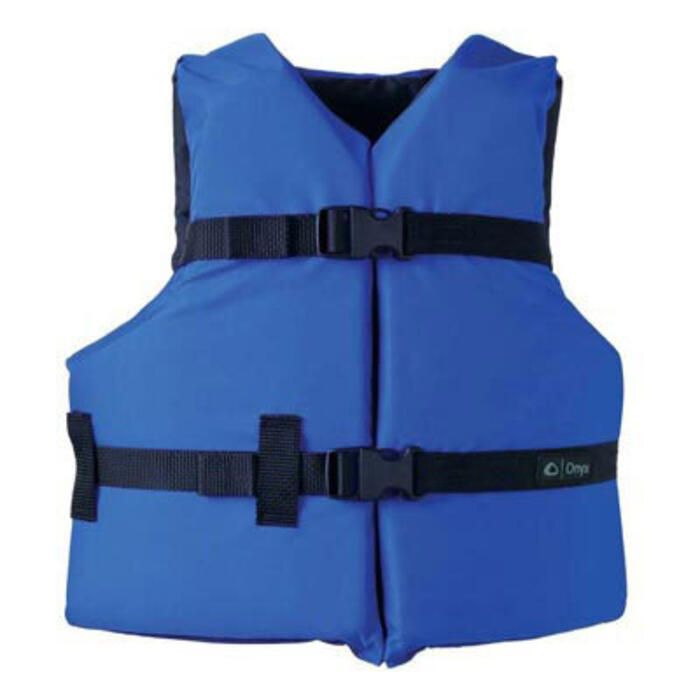 Onyx Youth General Purpose Life Jacket/PFD
Item # 876906
Description
Kent / Onyx type III Youth general purpose life vest is designed for use by children weighing between 50 and 90 bs.
Features:
Constructed of nylon oxford fabric with adjustable belts for a secure fit
Open-sided styling for adjustability
Large armholes for greater range of motion
Provides comfort and safety for all types of water activities
Lightweight and durable foam contours to your body and won't hinder your mobility
Specifications:
Chest Size: 25"-29"
Weight: 50-90 lbs
Minimum Buoyancy: 15.5 lbs
Part Numbers:
3352-0132 Blue / Black
3352-0131 Red / Navy
Notes:When choosing a life vest for any child, always check for the proper weight range and follow all directions for fit and use
Teach your Children to properly wear a PFD

Children panic when they fall into the water suddenly. This causes them to move their arms and legs violently, making it hard to float safely in a PFD
A PFD will keep a child afloat, but may not keep a struggling child face-up
That's why it's so important to teach children how to put on a PFD and to help them get used to wearing one in the water

All Children's PFDs must fit snugly

To check for a good fit, pick the child up by the shoulders of the PFD
If the PFD fits right, the child's chin and ears will not slip through
PFDs are not babysitters. Even though a child wears a PFD when on or near the water, an adult should always be there, too
Parents should remember that inflatable toys and rafts should not be used in place of PFDs

Infants:

The Coast Guard does not recommend taking infants onboard a recreational boat
The life vests currently available for newborns up to 18 pounds may not provide the proper fit to perform as expected
Unless the parent is first able to test their newborns out in a life jacket, sized for infants, in a swimming pool, they will not know if that device will float their child with his/her head out of the water
You must be sure you know the PFD you have works for your infant. Otherwise we recommend the child not be exposed to any risk in a boat on the water

Infants and Children:

Since infants and children come in many sizes and shapes, the U.S. Coast Guard and personal flotation device (PFD) manufacturers urge that PFDs be tested immediately after purchase
You should test your PFD in a swimming pool. Test it with the infant or child who will be wearing the PFD. Just because it works for one infant or child does not mean it will work for another in the same manner
Check for proper weight range, comfortable fit, and especially a stable face-up position in water
Infants and children are difficult to float in a face-up position because of the distribution of body weight and the tendency for them to struggle or attempt to climb out of the water
Some infants and children float best in one style of vest, while others will float better in another. If one does not work well, try another style
Remember: Never leave an infant or child unattended on a dock, on a boat or in-the-water, even if they have a PFD on.
Life Jackets & Personal Flotation Devices - Old vs. New Classification Systems
Part Numbers for Onyx Youth General Purpose Life Jacket/PFD