Odyssey Marine Dual Purpose Extreme Battery - Group 27 - ODX-AGM27M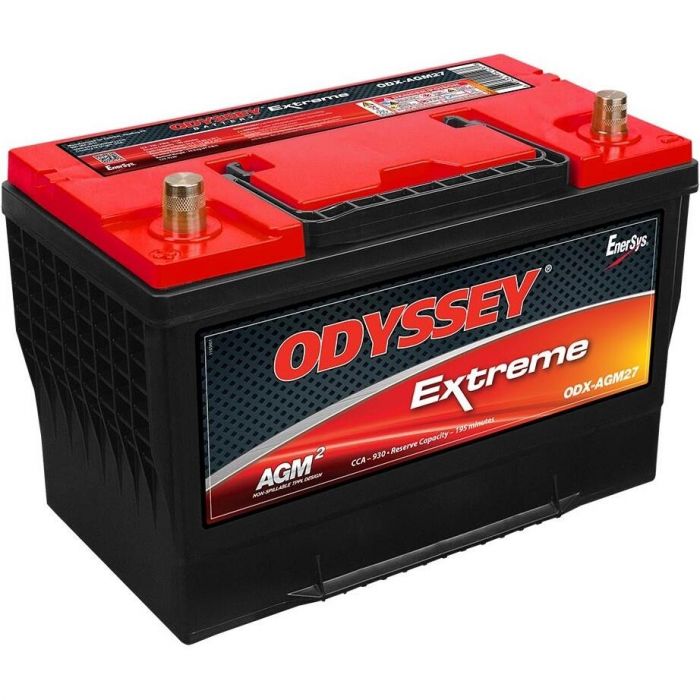 Odyssey Marine Dual Purpose Extreme Battery - Group 27 - ODX-AGM27M
Item # 957588
Description
Odyssey marine batteries excel at providing high vibration resistance, with the high cranking amps and reserve capacity that watercraft demand.
Features:
Pure lead AGM technology delivers exceptional CCA ratings and reserve capacity cycling ability
Quick starting every time
Cycles over 900 times at 50% depth of discharge
Faster recharge than conventional batteries
Proudly made in the USA at our state-of-the-art battery plant
OEM fit is ensured - built to exact BCI standards
Housed in advanced plastics for durability performance and heat resistance
Advanced AGM construction means no water levels to check or terminals to clean
Approved as non-hazardous cargo for ground sea and air transport DOT 49CFR173.159(d), (i) and (ii)
Dimensions
Length: 12.5" (318 mm)
Width: 6.8" (173 mm)
Height (terminal included): 8.8" (224 mm)
Height (container): 8.2" (208 mm)
Weight: 67.9 lbs (30.8 kg)
Specifications:
Voltage: 12V
Pulse (5 second) Hot Cranking Amps (PHCA): 1750A
Cold Cranking Amps (CCA): 930A
HCA: 1290A
MCA: 1080A
20Hr Nominal Capacity: 92Ah
10Hr Nominal Capacity: 88Ah
Reserve Capacity Minutes: 195
Terminal: SAE and 3/8-16" Stud (Pos.), 5/16-18" Stud (Neg.)
Torque Spec in-lbs (Nm max): 200 (22.6)/100 (11.3) studs only
Internal Resistance: 2.6 mΩ
Short Circuit: 5000A
Operating Temperature Range: -40°F/-40°C to 176°F/+80°C
Optimum Storage Temperature: 68°F/+20°C
WARNING
---
This product can expose you to chemicals which are known to the State of California to cause cancer, birth defects or other reproductive harm.
For more information go to www.p65warnings.ca.gov.
Part Numbers for Odyssey Marine Dual Purpose Extreme Battery - Group 27 - ODX-AGM27M