NOCO Genius GB40 Boost Plus 1000A UltraSafe Lithium Jump Starter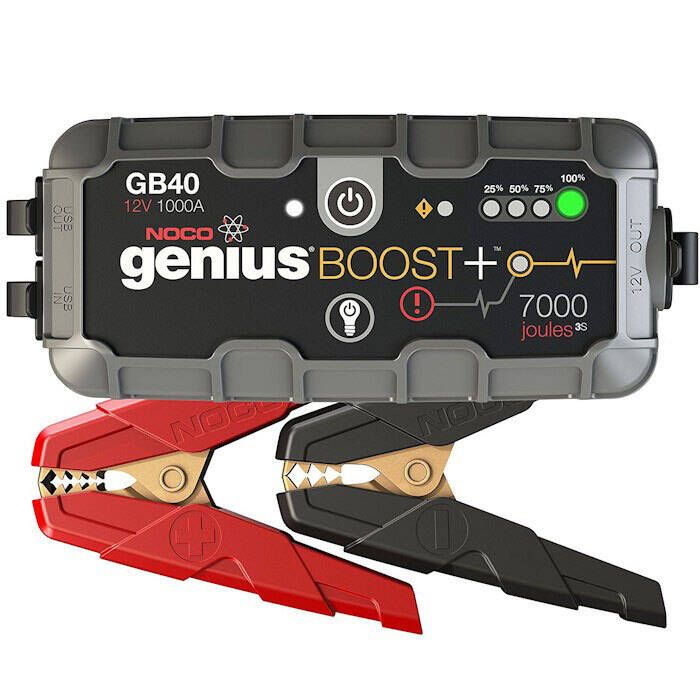 NOCO Genius GB40 Boost Plus 1000A UltraSafe Lithium Jump Starter
Item # 876486
Description
The Noco Genius GB40 Boost with UltraSafe Lithium Jump Starter is a portable lithium-ion battery jump starter pack that delivers 1,000-amps (7,000 Joules3S) for jump starting a dead battery in seconds. It features patented safety technology that provides spark-proof connections and reverse polarity protection, making it safe and easy for anyone to use.
Features:
Lithium battery jump starter rated at 1,000 Amps (7,000 Joules3S)
Spark-proof connections and reverse polarity protection
Jump starts gas engines up to 6 liters and diesel up to 3 liters
Provides up to (20) jump starts on a single charge
Recharges USB devices, like smartphones, tablets, and more
Includes 100 lumen LED flashlight with multiple modes, including SOS
Simple to use

Everything you need on one interface
LED status indicators display the internal lithium batteries charge level and charging status
Error indicators show when connected in reverse polarity or temporarily disabled for thermal protection
Simply turn on the LED flashlight, recharge a USB device, or use manual override for deeply discharged batteries

Compact, pocket-sized lithium jump starter that fits perfectly in your glove box
Power your USB devices on the go with the built in 2.1 Amp USB out port
Includes rechargeable lithium-powered LED flashlight with seven light modes, including SOS and Emergency Strobe

Immediately adaptable to a variety of situations
Powerful wash light will help you see your engine, change a tire at night, or even warn oncoming traffic when you are in need of roadside assistance

Portable, hand-held design with incredible power

Outperforms traditional lead-acid battery booster packs at a fraction of the size and weight
Over 8X smaller and 8X lighter, and its lithium-powered design makes it more compact and portable than ever before
Conveniently store in a glove compartment, center console, trunk, or toolbox

Heavy-duty battery booster clamps span 23-inches in length, and are capable of reaching most battery posts or chassis ground

High-temperature silicone wire insulation that remains extremely flexible down to -40-degrees centigrade
Withstands high levels of duress, and even withstands prolonged exposure to high temperatures
Specifications:
Starting Current: 1,000 Amps (Peak)
Joules 3S Rating: 7,000 J3S
Battery Types: 12V Lead-Acid Batteries
Internal Battery: 24W-Hour Lithium-Ion
USB Input: 2.1 Amps
USB Output: 2.1 Amps
Gas Engine Rating: Up to 6.0 Liters
Diesel Engine Rating: Up to 3.0 Liters
LED Flashlight: 100 Lumens
Warranty: 1 Year
In the Box:
GB40 battery jump starter / USB charger and LED flashlight
Heavy-duty battery clamps
12V car charger
Micro USB cable
Microfiber storage bag
User guide & warranty information
WARNING
---
This product can expose you to chemicals which are known to the State of California to cause cancer, birth defects or other reproductive harm.
For more information go to www.p65warnings.ca.gov.
Part Numbers for NOCO Genius GB40 Boost Plus 1000A UltraSafe Lithium Jump Starter