Navisafe 340 Navilight Tricolor - Navisafe-340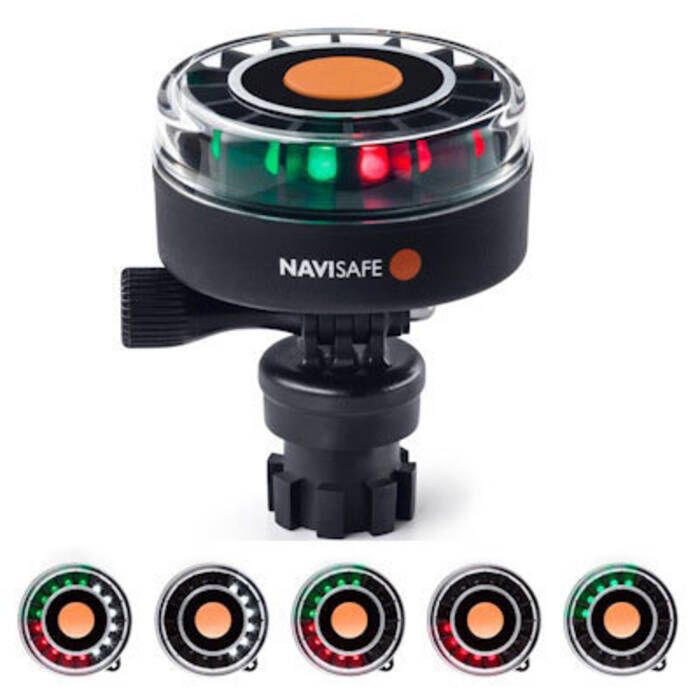 Navisafe 340 Navilight Tricolor - Navisafe-340
Item # 876009
Description
Navisafe's battery operated Navilight Tri-Color LED Light includes a green light to be shown at the starboard side and a red light to be shown at the port side. In addition, it includes the white stern light, to be used at the stern.
Features:
USCG Approved for 2 nautical miles
Bicolor side light, red side light, green side light, white stern light
Floats light facing up
Submersible to 20 m / 66 ft
Corrosion resistant
Tri-Color navigation light with Navimount base, compatible with Navisafe's Navimount system and many GoPro® / Action camera mounts

The Navilight Tri-Color without the Navimount base can be mounted directly to the 4-piece-pole but also directly to all kind of GoPro® / Action camera mounts
Specifications:
Power: Three AAA batteries (Sold separately)
Size: H = 90 mm, Ø = 68 mm
Modes / approximate burn time:

(16) green / red / white LED, 360° Tricolor lantern / 12hrs
(10) green/red LED, 225° Bicolor sidelight / 20hrs
(5) green or 5 red LED, 112,5° sidelight / 38hrs
(6) white LED, 135° Stern light / 32hrs
Note: imperial dimensions are approximate, the manufacturer built this product to metric specs.
Part Numbers for Navisafe 340 Navilight Tricolor - Navisafe-340