Mustang Survival HIT Inflatable PFD/Life Jacket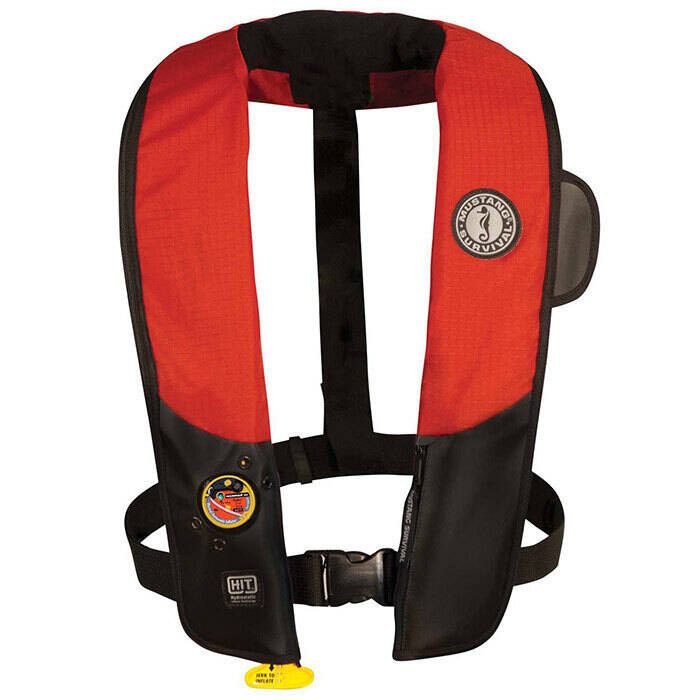 Mustang Survival HIT Inflatable PFD/Life Jacket
Item # 875787
Description
Designed for the most severe marine environments, the Mustang Survival HIT Inflatable PFD / Life Jacket offers automatic inflation when submerged in 4'' or more of water pressure and not inadvertently due to rain, spray or humidity.
Features:
Automatic hydrostatic activation with manual backup (pull-cord and oral inflator tube); inflator status indicator with clear inspection window
Activated by water pressure, 1F Hydrostatic Inflator Technology (HIT™) will automatically inflate when submerged – not inadvertently in rain, spray or humidity
PDF features exclusive technology intended for serious users and designed for use in moderate to severe weather
Provides 38 lbs buoyancy when inflated – more than 2x typical foam PFDs
Cylinder is contained inside bladder to protect against corrosion
Lightweight outer shell fabric and Neoprene Comfort Collar™
Bright fluorescent yellow-green inflation cell for improved in-water visibility
SOLAS reflective tape, safety whistle and strobe light attachment on inflation cell
1-1/2"-wide straps for secure fit
SecureZip™ closure stays shut in high winds yet opens easily on inflation
Zippered splash-proof pocket
Supplied with owner's manual and "Think Safe" booklet
1-year limited warranty
Specifications:
Mustang Survival Model No. MD3183 02
Approval: USCG Type II Recreational / Type V Uninspected Commercial vessels
Activation: Automatic with manual backup (pull-cord and oral inflator tube)
Size: Adult Universal – at least 16 years of age and 80 lbs or more with 30" - 52" chest size
Recommended Use: Fishing, sailing, boating, select paddle sports, industrial marine and law enforcement applications, etc
Buoyancy: 38 lbs when inflated
Re-Arm Kit: Mustang Survival MA7214
Note: Not approved for use on personal watercraft, for white water paddling, water skiing, knee boarding or similar towed activities. USCG Type V approval ONLY WHEN WORN for use on uninspected commercial vessels less than 40 ft. in length not carrying passengers for hire as a substitute for a Type II PFD when used in accordance with owner's manual Not approved for "hot work," not recommended for use by non-swimmers or weak swimmers unless worn inflated.
Life Jackets & Personal Flotation Devices - Old vs. New Classification Systems
WARNING
---
This product can expose you to chemicals including Antimony Oxide (Antimony Trioxide) and N,N-Dimethylformamide which are known to the State of California to cause cancer, birth defects or other reproductive harm.
For more information go to www.p65warnings.ca.gov.
Part Numbers for Mustang Survival HIT Inflatable PFD/Life Jacket