Mustang Survival Deluxe Anti-Exposure Coverall and Worksuit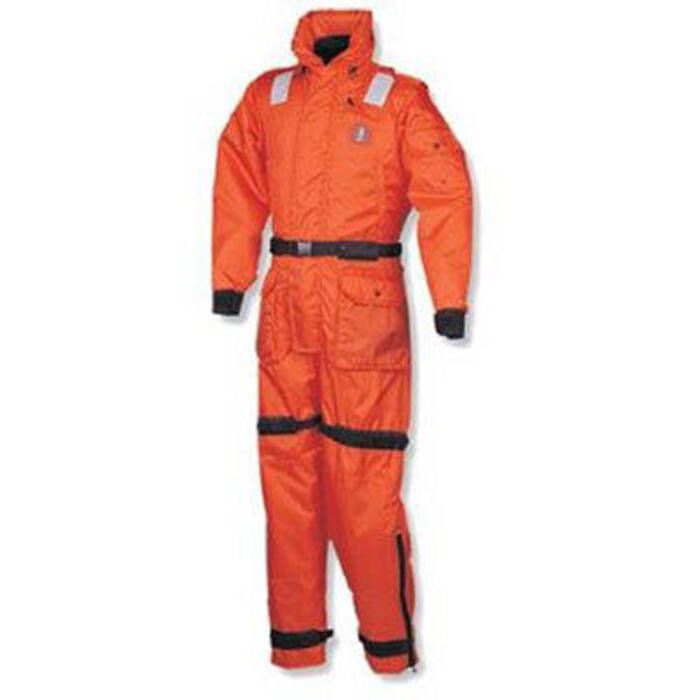 Mustang Survival Deluxe Anti-Exposure Coverall and Worksuit
Item # 875713
Description
Mustang's Deluxe Anti-Exposure Coverall and Worksuit, Type V Work Suit is completely insulated with Mustang Airsoft™ foam to deliver an Immersed Clo Value of 0.420. The Mustang MS2175 Deluxe suit delivers significantly more hypothermia protection than just a jacket or pant. This, combined with maximum flotation in the event of accidental water immersion makes the MS2175 an excellent choice for activities around colder northern waters. Suitable for a wide range of uses from recreational boating to industries like offshore oil and gas work to the rigors of the US Coast Guard The deluxe anti-exposure suit is comfortable and roomy so it won't impede your activities.
Features:
Hypothermia and flotation protection - Immersed Clo Value 0.420
Inflatable head support pillow for additional buoyancy
Relaxed fit for comfort and mobility
Neoprene wrist closures for weather protection
Tug-Tites® at thighs and ankles cinch easily to improve fit and minimize water flushing to delay onset of hypothermia
Ergonomic insulated hood easily folds into collar
SOLAS reflective tape for improved visibility
Chest and front cargo pockets for extra storage
USCG Approved Type V

Approved Substitute for a Type III PFD when worn
Regulatory Approval:
Organization: USCG - United States Coast Guard
Standard: UL1123
Series: Work vests 160.053
Type: Type V
What is a "Clo" Value and what does it mean?
Immersed Clo Values are a measurement of the thermal protection of a suit or device when it is in the water. The higher the Clo number, the longer the predicted survival time in the water. Predictions can be made of the rate at which a person's body temperature will drop in cold water from the Immersed Clo Values
A Value of 1.00 "Clo" represents the thermal comfort of an average person in business clothing in a room temperature indoor environment. Fractions of this thermal comfort are what are perceived when using a device in the water. Each of the values are below 1.0 because water transfers heat out of the body 25 times faster than air
Applications:
Recreational Boating
Fishing
Sailing
Kayak / Paddle Sports
Canoeing
Hunting
Industrial Marine
Marine Construction
Offshore Oil and Gas Rigs
Fire, Police and Law Enforcement Departments
Coast Guard
Search and Rescue ( SAR )
Commercial Vessels
Commercial Transportation
Special Operations and Security Sectors
Snowmobiling
Ice Boating
Life Jackets & Personal Flotation Devices - Old vs. New Classification Systems
WARNING
---
This product can expose you to chemicals including Antimony Oxide (Antimony Trioxide) and N,N-Dimethylformamide which are known to the State of California to cause cancer, birth defects or other reproductive harm.
For more information go to www.p65warnings.ca.gov.
Part Numbers for Mustang Survival Deluxe Anti-Exposure Coverall and Worksuit