Muir Cheetah HR2500 Compact Horizontal Windlass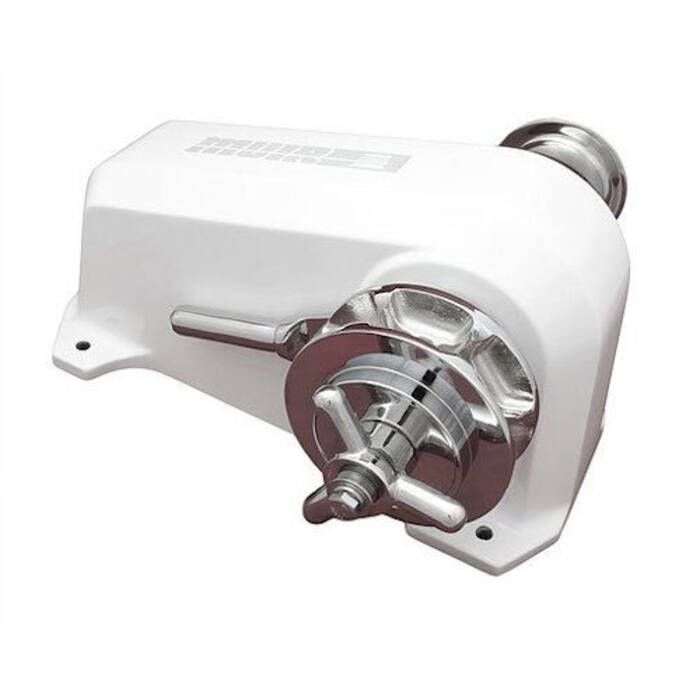 Muir Cheetah HR2500 Compact Horizontal Windlass
Item # 875552
Description
Features:
Gypsy for Rope & Chain Combination
Manual Override System (MORS)
Heavy Duty Dual Direction Motor 12V DC
Hydraulic Option for the HR 2500 Model
New durable and low-maintenance composite housing
Fully enclosed motor & gearbox
Independent gypsy and capstan operation
Luxury chromed marine grade bronze / 316 Stainless steel running gear
Stainless steel drive shaft
Cone clutch/brake
Shaft seal
Clutch release handle
Specifications:
Boat Length: 38' to 55'
Finish: White
Power: 12V DC
Amp Draw: 75-120 @ 12V
Power: 24V DC
Amp Draw: 50-75A @ 24V
Power Consumption: 1200W
Max Pull: 2500 lbs
Work Load: 625 lbs
Draw @ Work Load: 120A @ 12V
Recommended Circuit Breaker: 150A @ 12V
Draw @ Work Load: 75A @ 24V
Recommended Circuit Breaker: 70A @ 24V
Max Line Speed: 48' per minute
Package Includes:
Muir Cheetah Compact HR 2500 Windlass
Solenoid Control Box
(2) Footswitches
Clutch/Manual Operation Handle
Chainpipe
Installation/Operation booklet
Note: The above chainwheels are designed to fit short link chain only; BBB, ISO spec, etc. to maximize the number of pockets and gripping. Chain is manufactured by many sources. It is critical to match the chain to the chainwheel, therefore please be careful when sizing. Defender only offers short link chain, BBB and ISO Spec. Do not use NACM spec chain as these have longer links and will not work in a windlass. Non-ISO chain sizes like NACM spec or miss-matching the chain and gypsy may allow the chain to skip in or jump from the gypsy pockets.
Part Numbers for Muir Cheetah HR2500 Compact Horizontal Windlass