Mercury Quickare Gasoline Fuel Treatment - 12 oz - 8M0047930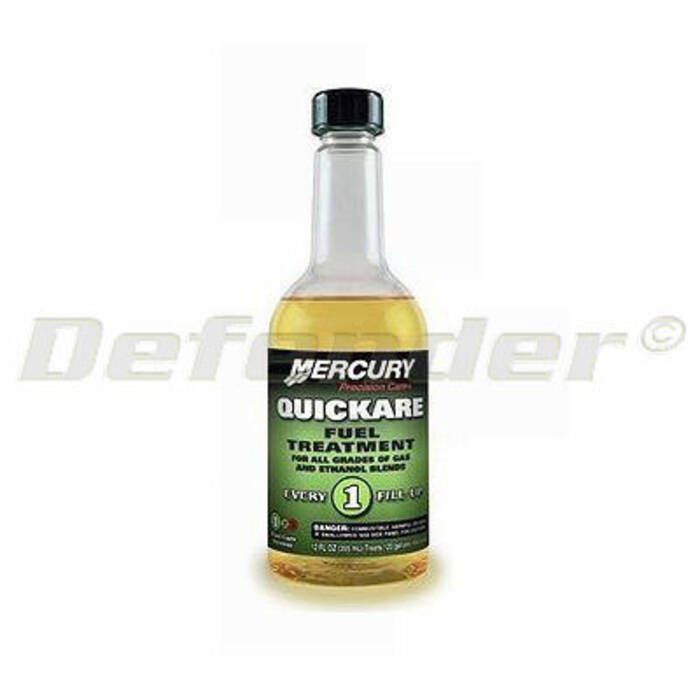 Mercury Quickare Gasoline Fuel Treatment - 12 oz - 8M0047930
Item # 875300
Description
Features:
Quickare keeps fuel fresh between fill-ups and helps prevent problems associated with ethanol-blended fuel, such as:

Corrosion
Rust
Oxidation
Gum and varnish buildup
Phase separation

Most of today's gasoline can begin to break down and oxidize within weeks, leaving behind deposits that hinder an engine's performance and fuel economy
Mercury's fuel treatment, Quickare, is designed to be used with every fill-up
12 Fluid Ounce Bottle treats 120 gallons of fuel
Maximize engine performance with all grades of gasoline
Help corrosion, gum and varnish buildup and phase separation associated with ethanol-blended fuel
Help control moisture and corrosion problems with non-ethanol fuel
Clean up existing varnish and gum deposits from fuel lines, tanks, carburetors, injectors, intake valves and spark plugs
Note: Mercury Marine's simple, easy-to-follow fuel care system takes the guesswork out of choosing the right fuel additive for your boat engine. Easy-to-read, numbered labels describe when each product should be used, eliminating unnecessary confusion.
Quickare, Quickleen and Quickstor fuel additives are essential in helping keep your engine running at its peak. By regularly using these fuel care products, your engine may start easier, idle smoother and hit the hole shot quicker. Other benefits include extended spark plug life and less stalling from cold engine starts. All three of Mercury's fuel care products can be used in any 2-cycle or 4-cycle gasoline engine with any octane grade, including ethanol-blended. They are also safe for catalyzed engines.
Part Numbers for Mercury Quickare Gasoline Fuel Treatment - 12 oz - 8M0047930