Mercury 9.9 HP Tiller Outboard Motor - Command Thrust ProKicker - 2024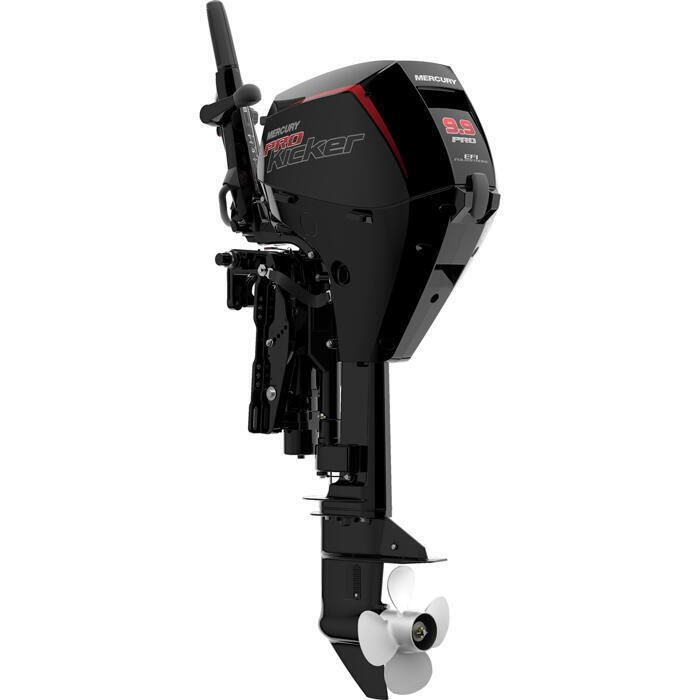 Mercury 9.9 HP Tiller Outboard Motor - Command Thrust ProKicker - 2024
Item # 969138
Description
Mercury ProKicker outboards enable precision boat control for a wide range of fishing applications. Quiet, smooth and efficient, they make long hours of trolling more productive – and more enjoyable.
Features:
High-thrust four-blade props enhance speed control at low rpm
Standard power tilt makes stowing and deploying easy
Class-leading alternator provides powerful battery-charging output at all speeds
Command-Thrust Gearcase:
High Thrust Propeller
Locates Propeller deeper in the water
Lower Position keeps propeller below turbulent water, allowing it to operate in cleaner, less aerated water
Dual Water Intakes to help Safeguard Proper Water Cooling
Larger Gears and Bearings
Specifications:
Horsepower: 9.9 HP
Max RPM (wide open throttle): 5000-6000
Cylinder configuaration: inline 2
Displacement: 280 cc
Fuel system: carbureted
Alternator: 6A
Gear ratio: 2.42:1
Fuel line included
Standard 4-Blade Aluminum Propeller: 10" x 7"
Steering: tiller
Dry weight (lightest available model): 106 lbs
Factory warranty: 3 years. Warranty begins on date of purchase.
Part Numbers for Mercury 9.9 HP Tiller Outboard Motor - Command Thrust ProKicker - 2024