Maxwell VW Series VW3500 Vertical Windlass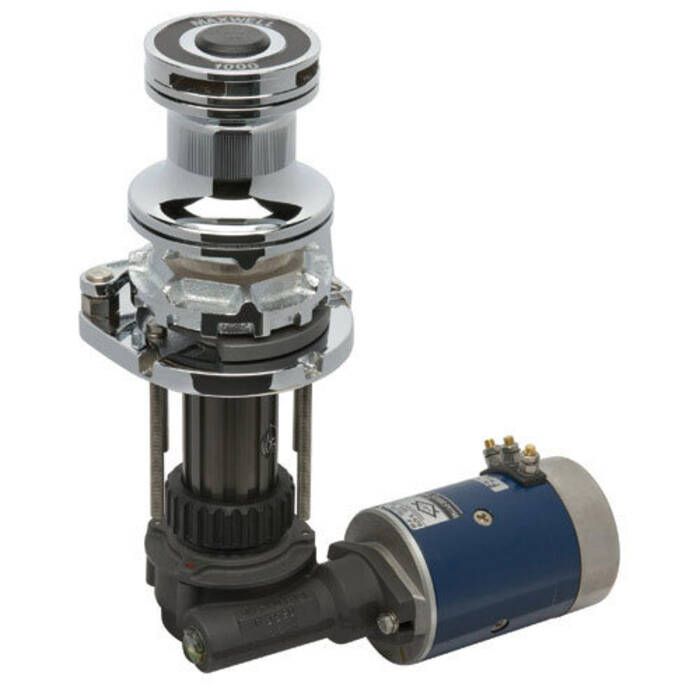 Maxwell VW Series VW3500 Vertical Windlass
Item # 874917
Description
Features:
Provides the versatility of operating two anchors from one winch.
Rope hauling from any direction using independent 'MAX-grip'™ warping drum with clutch disengagement of chainwheel.
Permits use of traditional shackle and thimble rope and chain connection.
Alternative horizontal mounting inside chain locker for below deck installation.
High-quality finish on above deck components. Heavy chrome over marine-grade alloy bronze.
Cone type brake/clutch mechanism permits manual "free-fall" anchoring.
Cone clutches, unlike dog clutches, provide smooth progressive engagement ensuring safe operator control.
Chainwheel locking pawl (except 500 and 800 Series).
Simplified through deck installation by modular design and precise alignment of gearbox to the top works utilizing marine-grade stainless steel studs.
The gearbox has a high efficiency output drive with heavy-duty, wide-face, precision, bronze spur gears in a sealed oil bath. (Specifications differ depending on motor and winch rating)
Marine-grade alloy gearbox housing, finished with a two coat paint system.
Oil level inspection sight glass for quick inspection of correct oil level.
Heavy duty, dual direction motor, designed for marine winches. Isolated ground type, with durable class F insulation. Easily removed for servicing
Specifications:
Maximum Pull: 3500 lbs
Line Speed (Normal Working): 33'/min
Power Supply: 12V DC
Motor: 1200W
Standard Deck Clearance: 4"
Chain Sizes (Short Link): 3/8" - 7/16"
Hydraulic Pressure: 2000 PSI
Hydraulic Flow: 8.5 US
Included:
Circuit Breaker/Isolator Panel (supplied with DC units only)
Footswitch (supplied with DC units only)
Chainwheel
Emergency crank handle and clutch control lever
Note:: Winch performance when hauling rope with capstan. Chain speed may vary depending on size of chain and gypsy.
See More Information for this Product
here for a Dimensional Drawing (1.02 MB)
Part Numbers for Maxwell VW Series VW3500 Vertical Windlass