MasterVolt CombiMaster Inverter/Charger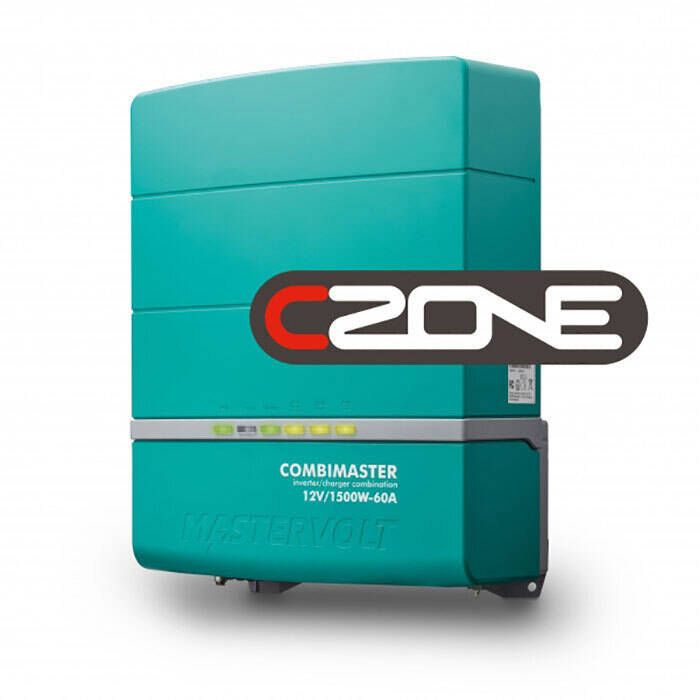 MasterVolt CombiMaster Inverter/Charger
Item # 874758
Description
The Mastervolt CombiMaster Inverter / Charger represents an evolution in integrated power conversion technology. It connects seamlessly to a CZone, MasterBus, or NMEA 2000 network, which allows monitoring and control from a centralized touch screen. CombiMaster directly communicates and shares information with other devices connected on the network to provide a true system-based power conversion solution.
Features:
Automatic AC transfer system switches between generator or mains and inverter output, ensuring a constant power supply
Most compact and lightweight Combi in its class
Reliable, hum-free and longer operation from batteries
Starts even the heaviest and most sensitive loads
Intelligent 3-step+ battery charger for faster and safer charging
Power Assist prevents tripping of the mains fuse in case you are connected to a weak land line or generator
Complete with MasterBus, CZone and NMEA 2000 compatible communication
Quick installation, with heavy duty connections - generator compatible
MasterBus compatible via SmartRemote or EasyView 5 displays
CZone / NMEA 2000 compatible via Touch 5 or Touch 10 displays
NMEA 2000 compatible via 3rd party multifunctional displays
E-mark certified
Sine Wave Inverter
Nominal DC voltage: 12V (10.2-16V)
Output voltage: 120V
Output frequency: 60/50 Hz (configurable)
Output waveform: True sine
Continuous power at 40° C / 104° F, cos phi 1: 1500 W
Max. efficiency: 93%
Battery no-load power consumption: 30 W (on mode)/ < 1 mA (off mode)
Energy saving mode consumption: 10 W
Synchronize with mains: Yes
Battery Charger
Input voltage range: 90-140V
Battery temperature sensor: Yes, included
Battery voltage sense: Automatic compensation
Transfer System
AC input: 30A (switched)
AC input fuse: Yes
Transfer speed: 10 ms
Transfer voltage range: wide: 70-140 V / narrow: 90-140 V
Transfer frequency range: 40-65 Hz
General
Galvanic isolation: Yes
Display / read-out: LED display
Technical
Charge characteristic: UoUo, automatic / 3-step+ for flooded, Gel/AGM and MLI, configurable
Recommended battery capacity: 120-600 Ah (based on gel batteries, may differ for other types)
Ground relay: Yes, configurable by means of mechanical jumper
Temperature range (ambient temp.): -13 to 140° F
Cooling: Variable speed fan
Protection degree: IP23 (vertical mounting)
Safety class: IEC protection class I
Humidity protection: Conformal coating, max. 95 % relative humidity, non condensing
Protections: Over-temperature, overload, short circuit, high/low battery voltage
Power Assist: Yes, supports AC input with power from the battery
Power Sharing: Yes, allows you to select AC Input fuse setting
MasterBus compatible: Yes
CZone / NMEA 2000 compatible: Yes
CombiMaster 12/1500-60 Inverter/Charger Product Information
CombiMaster 12/2000-100 Inverter/Charger Product Information
CombiMaster 12/3000-160 Inverter/Charger Product Information
WARNING
---
This product can expose you to chemicals which are known to the State of California to cause cancer, birth defects or other reproductive harm.
For more information go to www.p65warnings.ca.gov.
Part Numbers for MasterVolt CombiMaster Inverter/Charger