MAS Epoxies FLAG Handy Repair Kit - Small - 30-FLAG SMALL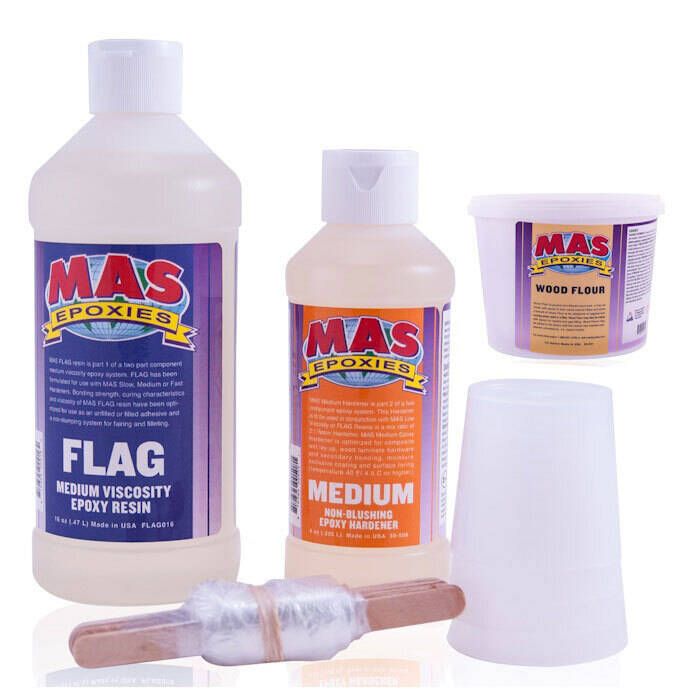 MAS Epoxies FLAG Handy Repair Kit - Small - 30-FLAG SMALL
Item # 874693
Description
MAS F.L.A.G. is a premium resin forfilleting, laminatingand gluing
MAS F.L.A.G. Resin is a "medium" body resin specifically designed to perform as an adhesive and structural laminating foundation. The medium viscosity allows for the incorporation of fillers when fairing putties, gluing slurries and filleting systems are required. The Handy Repair Kit gives you a convenient amount of the MAS Epoxies 2:1 Non-Blushing System for small repairs and emergency needs. The Handy repair kit includes FLAG resin, medium hardener, wood flour, mixing cups, mixing sticks and gloves, so you have everything you need right at your fingertips.
Package Includes:
8 oz MAS FLAG Resin
4 oz MAS Medium Hardener
8 oz Wood Flour
(4) Graduated mixing containers
(8) Mixing sticks
(4) Pairs of gloves
Features:
Non-blushing
Easy fiberglass wet-out
Thicker formula
Applications:

Gluing
Laminating
Structural repairs
Barrier coating
Cold molding
Filleting and fairing

More reactive than MAS Low Viscosity Resin when mixed with Medium Hardener

Keeps filers and fairing from slumping

May be used with all MAS Hardeners
Next day sandable when cured at 60° F and higher
Measured Properties
Resin Viscosity: 3000-3400 cps
Color: 1 Gardener Max
EEW: 190-200
Tg: 140° F
Mix Ratio:2:1 Resin: Hardener
Peak Exotherm (30g batch): 360° F
Pot Life (30g batch): 15 minutes
Glass Transition Temperature (Tg): The Glass Transition Temperature (Tg ) is one of the most important properties of any epoxy and is the temperature region where the polymer transitions from a hard, glassy material to a soft, rubbery material. As epoxies are thermosetting materials and chemically cross-link during the curing process, the final cured epoxy material does not melt or re-flow when heated (unlike thermoplastic materials), but undergoes a slight softening (phase change) at elevated temperatures.
Part Numbers for MAS Epoxies FLAG Handy Repair Kit - Small - 30-FLAG SMALL