Maretron Pressure Transducer - PT-V-0-1BAR-01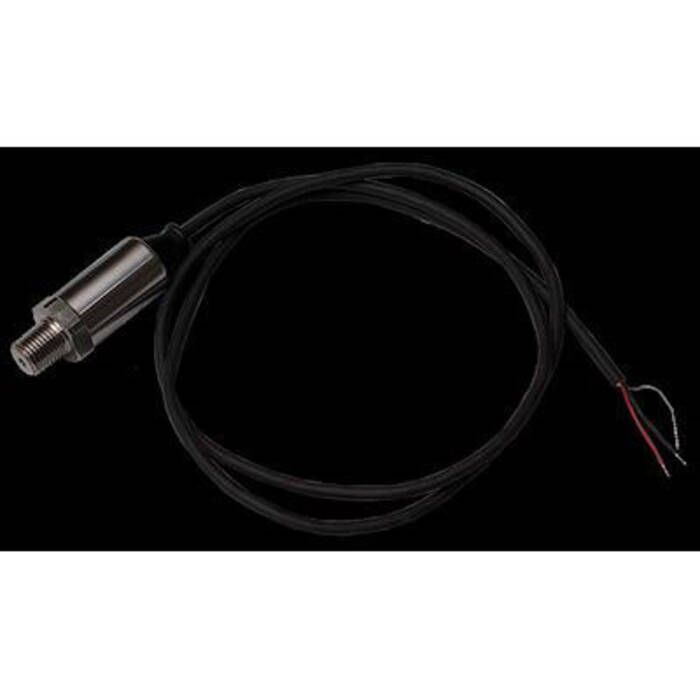 Maretron Pressure Transducer - PT-V-0-1BAR-01
Item # 874310
Description
Maretron pressure transducer for vacuum applications to be used with the FPM100. For maximum accuracy, you should always use the transducer with the smallest range that is sufficient for your application
All pressure transducer accessories for the FPM100 are fitted with 1/4" NPT male threads.
Some pressure transducers measure gage pressure (pressure above atmospheric). These transducers have a small plastic vent tube enclosed in the connecting cable. Special care must be taken not to block or kink the vent tube, and not to expose the vent tube to moisture.
Keep in mind that the rated burst pressure of the pressure transducer is 2.4 to 3 times the maximum measurement pressure of the transducer. If the pressure transducer will experience pressure spikes in excess of the transducer's maximum measurement pressure, use of a Pressure Snubber (PT-SNUB-01) accessory is highly recommended. The snubber will dampen pressure spikes that will be seen by the pressure transducer.
Specifications:
0-1 Bar
Operating Temperature: -40°C to 105°C
Storage Temperature: -40°C to 105°C
Proof Pressure: 2.4 × Full Scale
Burst Pressure: 2.4 × Full Scale
Reverse Voltage Protection:± 16V over 5 Minutes
Construction: 304L stainless steel
Pressure/Temperature Cycles: 0 to FS @ 8Hz; and 40°C to 105°C for > 1.8x106 cycles
Thermal Shock: 105°C to 40°C, 0.5 hr soaks at Temp. (2s Transfer) for 300 cycles
Vibration: 100 to 2000 Hz, 20g Sinusoidal, 3 Axes for 144 hours
EMC Compatibility: 10V/meter per EN 61000-4-3
Humidity: 85°C
Part Numbers for Maretron Pressure Transducer - PT-V-0-1BAR-01