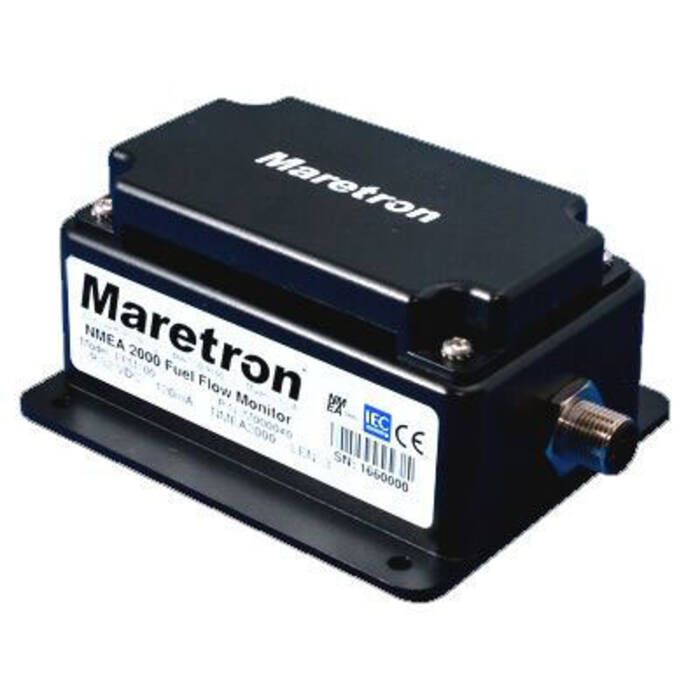 Maretron Fuel Flow Monitor - FFM100-01
Item # 874206
Description
Maretron's FFM100 provides precision fuel flow information to help optimize fuel consumption, which can save thousands of dollars in fuel operating cost.
Features:
Uses state-of-the-art, positive displacement metering technology for unprecedented accuracy
Comparable accuracy to that of commercial vessel systems
Positive displacement metering technology eliminates flow conditioning components such as straighteners and pulsation dampers
Uses true temperature compensation with embedded temperature sensors within the meters

The returning fuel is generally hotter than the supply fuel and if not properly compensated, inaccuracies as much as 5% can occur in computing the engine's fuel consumption

Detects momentary reverse flow in the fuel lines due to fluctuating pressure caused by the injection pump

Less accurate systems count the reverse fuel flow as part of the consumed fuel where the FFM100 properly accounts for momentary reverse flow

The FFM100 can be used for fluid types other than fuel (e.g., water, oil, etc.) by ordering the appropriate flow sender
Fuel Flow Senders:

All flow senders must be ordered separately depending on application (i.e., single fuel flow sender for gas engine, dual fuel flow senders for diesel engine, water flow sender for sea water, etc.)
Fuel flow senders facilitates fuel consumption optimization for reduced fuel operating cost
Fuel flow senders use positive displacement metering technology for superior accuracy over other measurement technology such as turbine meters
Fuel flow senders do not require costly fuel conditioning components like flow straighteners and pulse dampers
Fuel flow senders implement true temperature compensation with precision built-in thermistors for increased accuracy
Fuel flow senders automatically detect reverse flow due to fluctuating pressure difference from injection pumps
Fuel flow senders pass particle sizes up to 70 micrometers (diesel fuel filters normally filter down to 2 micrometers to prevent clogging injectors)
See More Information for this Product
WARNING
---
This product can expose you to chemicals which are known to the State of California to cause cancer, birth defects or other reproductive harm.
For more information go to www.p65warnings.ca.gov.
Part Numbers for Maretron Fuel Flow Monitor - FFM100-01