Maretron Current Loop Monitor - CLM100-01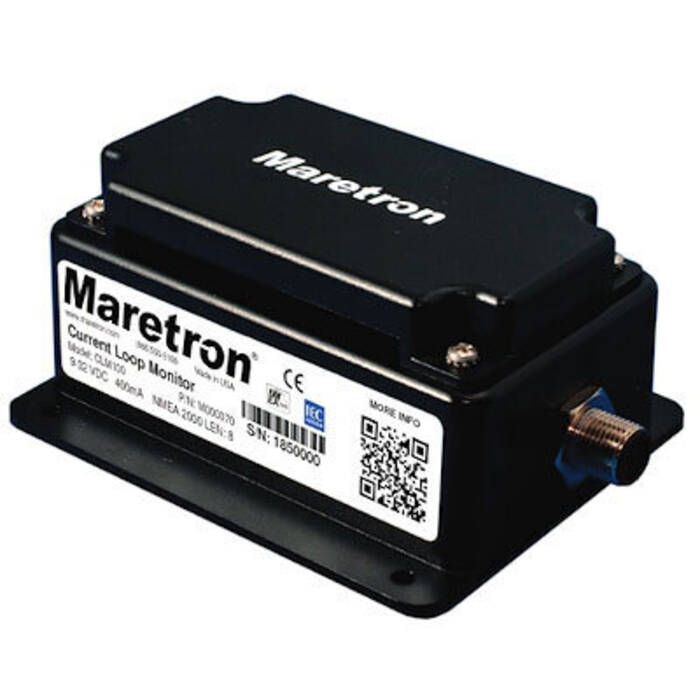 Maretron Current Loop Monitor - CLM100-01
Item # 874198
Description
Maretron's CLM100 Current Loop Monitor converts commercially available 4-20 mA current loop transducers into digital data so a wide variety of information can be displayed on compatible NMEA 2000® displays.
Features:
Numerous 4-20 mA current loop transducers are supported by the CLM100 including transducers for monitoring DC voltage and current, flow rate, distance, linear velocity and acceleration, angle, angular velocity and acceleration, temperature, humidity, resistance, strain gauges, force (load cells), pressure, decibels, and rotational rate
Some typical applications where the CLM100 is used together with a commercial available 4-20mA transducers include machinery monitoring using accelerometers and vibration sensors
Vibration monitoring of pumps, motors, fans, compressors, and gear boxes provides an early warning of potential problems resulting fewer breakdowns and reduced maintenance expenses
Another application example using the CLM100 is shaft speed monitoring

A commercially available 4-20mA rotational rate sensor is coupled to the shaft of interest and the CLM100 converts the transducer data to an RPM that can be read by a compatible NMEA 2000® display

And if you're concerned about the force exerted on a mast stay or perhaps a vessel tow attachment point, commercially available clevis pins with a 4-20mA interface can be connected to the CLM100 and the corresponding load monitored using any of Maretron's display products
The CLM100 is NMEA 2000® certified so you can view any and all information anywhere on the vessel using a compatible NMEA 2000® display
The CLM100 is a key component of Maretron's N2KView® vessel monitoring and control system
Specifications:
(6) Channels

Each channel independently programmed

Function: Used with Commercially Available 4-20mA Current Loop Transducers
Converts Analog Transducer Data to Digital Data (NMEA 2000®)
Digital Data Displayed on All Maretron Displays
Power: 9-32V DC
Draw: 400 mA
Reverse Battery protection: Yes
Load Dump Protection: Yes
Applications:

Voltage Measurement
Current Measurement
Distance Measurement Linear
Velocity Measurement
Linear Acceleration Measurement
Angle Measurement
Angular Velocity Measurement
Angular Acceleration Measurement
Flow Rate Measurement
Temperature Measurement
Humidity Measurement
Resistance Measurement
Strain Gauge Measurement
Force Measurement
Pressure Measurement
Decibel Measurement
Rotational Rate Measurement

Dimensions: 3.50" x 4.20" x 2.03" (88.9 mm x 106.7 mm x 51.6 mm)
WARNING
---
This product can expose you to chemicals which are known to the State of California to cause cancer, birth defects or other reproductive harm.
For more information go to www.p65warnings.ca.gov.
Part Numbers for Maretron Current Loop Monitor - CLM100-01