Maptech Navigation U.S. Boating Charts with Tides & Currents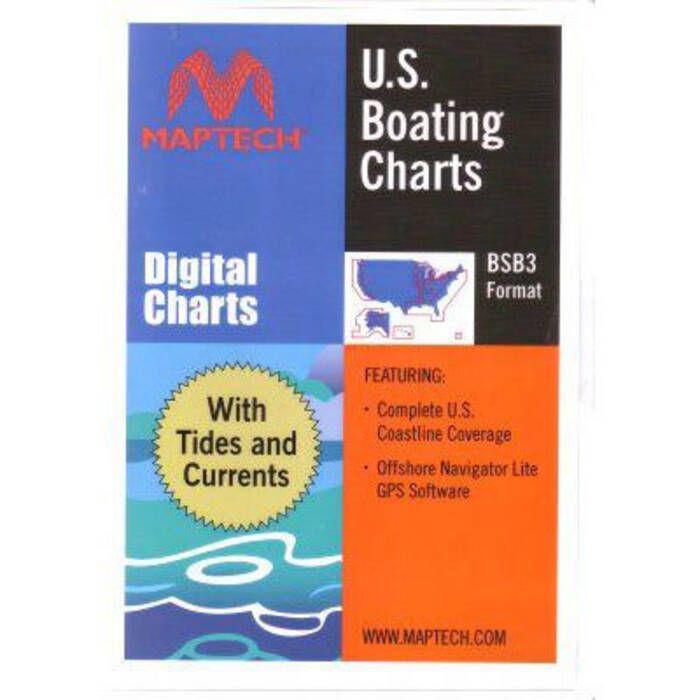 Maptech Navigation U.S. Boating Charts with Tides & Currents
Item # 874146
Description
Tired of downloading NOAA charts? There is a better way, and tides and currents data is included with the charts. Maptech's new U.S. Boating Charts with Tides and Currents on USB drive has over 2200 up-to-date NOAA nautical charts and more than 750 river charts from the Army Corp of Engineers. It comes with GPS real-time navigation software and U.S. Tides and Currents data for a two year period.
U.S. Tides and Currents Features:
A great feature for planning your next cruise.
Each tide station is labeled with the present tidal height and includes an arrow that indicates whether the tide is ebbing or flooding.
Right click on an icon to read the station name, view its tide graph, or get additional data about the station.
The Tide Graph shows the time and estimated water height of predicated high and low tides
Current Graph shows fluctuations in the current's speed and direction hour to hour.
Tides and Currents data for a two year period."
Navigational Software :
The PC Navigational Software lets users easily create routes by clicking the mouse for real-time navigation or trip planning.
Each click puts a waypoint on a chart.
Click again and you're creating a route.
Chart segments and route plans can be printed on standard printers. And
If you have a computer onboard, connect a GPS to it and you will see your vessel's location on the detailed charts for real-time tracking and positioning.
Note: All supplied NOAA Charts can be easily updated at www.freeboatingcharts.com
Specifications:
Complete U.S. Coverage: The USB drive includes the entire U.S. and is arranged in 23 "Chart Kit Regions" which makes it easy to find specific charts for all your favorite boating and fishing areas. R 02 -- Block Island, RI to the Canada Border R 03 -- New York to Nantucket and Cape May, NJ R 04 -- Chesapeake and Delaware Bays R 06 -- Norfolk, VA to Florida - ICWW R 07 -- Florida East Coast and the Keys R 08 -- Florida West Coast and the Keys R 10 -- Puerto Rico and US Virgin Islands R 12 -- So. Calif. - Point Arena to Mexican Border R 13 -- Lake Michigan R 14 -- San Francisco to Cape Flattery R 15 -- Pacific Northwest - Puget Sound to Canadian Border R 17 -- Mobile, Alabama to Mexican Border R 18 -- Lower Mississippi River: New Orleans, LA to St. Louis, MO R 19 -- Tennessee and Cumberland Rivers R 20 Upper Mississippi River and Illinois Waterway R 22 -- Lake Superior and Lake Huron R 24 -- Lake Erie (US Waters) R 26 -- Lake Ontario (US Waters) R 30 -- Southeast Alaska R 32 -- South Central Alaska R 34 -- Alaska - Aleutians and Bristol Bay R 36 -- Alaska - Norton Sound to Beaufort Sea R 40 -- Hawaiian Islands
Part Numbers for Maptech Navigation U.S. Boating Charts with Tides & Currents