Lowrance StructureScan 3D Module with Transducer - 000-12395-001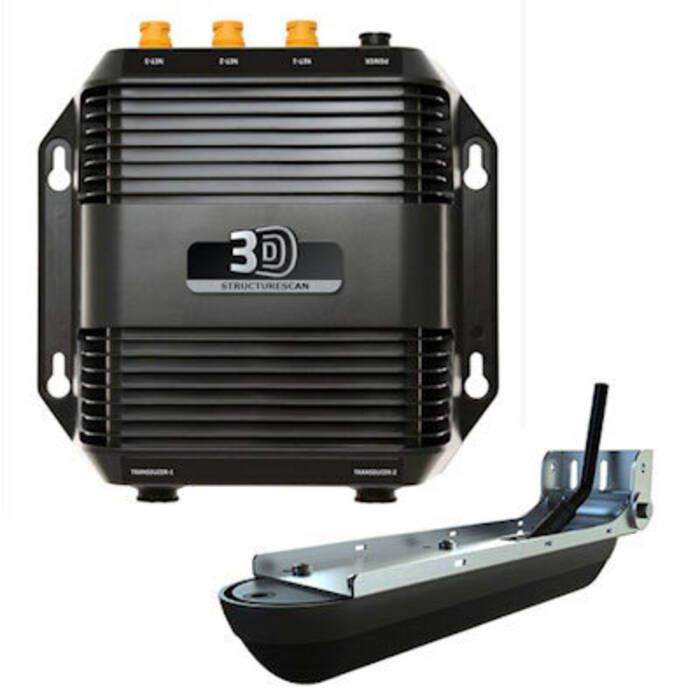 Lowrance StructureScan 3D Module with Transducer - 000-12395-001
Item # 873757
Description
Lowrance's StructureScan® 3D allows anglers to see fish, structure and bottom contour in a stunning three-dimensional view. StructureScan® 3D imaging scans underwater terrain and fish-holding structure to create a high-resolution, 180-degree, three-dimensional view beneath your boat. With this unique imaging view, anglers gain a better understanding of where fish and structure are located in relation to their boat.
Features:
The picture-like, three-dimensional views are displayed on the Lowrance HDS Gen3 series of fishfinder/chartplotters, when used in combination with the SideScan 3D Skimmer® transducer and StructureScan® 3D module
Easy-to-Understand Sonar Images
View 3D images from any angle with ScanTrack™ pan-tilt-rotate control using on-screen touch commands and easy-to-use, preset viewing positions
StructureScan® 3D allows anglers to more easily understand where fish and fish-holding structure are located in relation to their boat
180-Degree scanning range, anglers can quickly search for key areas and cover, such as abrupt depth changes, points, ditches, rock piles, brush piles, weed beds standing timber, wrecks and more
Clearest possible SideScan views, the StructureScan 3D transducer design has been enhanced with an increased number of sensors for greater imaging performance
High Definition (HD) and Super-Wide 3D Scanning contours below the water's surface can be shown to the sides of the boat (up to 600 feet port and starboard) with incredibly detailed, high-definition views
Leading Edge™ scanning reference provides a clear graphical illustration of sonar beams as they intersect with bottom contours
SelectScan™ automatically shades fish-holding cover and suspended targets in a color that contrasts the selected color palette
Vertical Enhancement is a user-selectable scale that will apply on-screen emphasis to vertical drops and crucial depth contour changes
Use the waypoint keypad to save a waypoint at the boat location, or switch to cursor mode, and save a waypoint over specific targets, baitfish or cover
Fine-tuned 3D image settings are set by your HDS Gen 3 default configuration and StructureScan 3D Module
Ethernet Connectivity allowd connectivity for up to (3) networked devices
Specifications:
Transmit Power Max RMS: 500W
Cable Length 20 ft / 6m
Transducer Frequencies Enhanced 455 kHz
Sonar: 600 feet
echosounder Frequencies Enhanced 455 kHz
EchoSounder Output Power Max RMS: 500W
SideScan Imaging

Max Range: 600 ft. / 183 m
Track bottom: 35 mph / 56 kph
Mark objects: 15 mph / 24 kph
Optimum imaging: 2-8 mph / 3-13 kph

DownScan Imaging™

Max Depth: 300 ft / 92 m
Track bottom: 35 mph / 56 kph
Mark objects: 2-8 mph / 3-13 kph
Optimum imaging: 2-8 mph / 3-13 kph

Power Consumption:

Max: 0.75 Amp
Typical: 0.60 Amp
Inrush: 4.7 Amp pk

Power Supply (Supply Voltage) 12V DC
Input Voltage 10V - 17V DC
Cable: 20 ft / 6 meter
Waterproof: IPX 7
Package Includes:
000-12396-001 StructureScan 3D Transducer
000-12397-001 StructureScan 3D Module
000-00128-001 Power Cable
000-0127-29 Ethernet cable (yellow 5 Pin) 4.5 m (15 ft)
Click Here for an Installation Guide for this Product (1.39 MB)
Click Here for a Transducer Installation Guide for this Product (1.39 MB)
WARNING
---
This product can expose you to chemicals which are known to the State of California to cause cancer, birth defects or other reproductive harm.
For more information go to www.p65warnings.ca.gov.
Part Numbers for Lowrance StructureScan 3D Module with Transducer - 000-12395-001